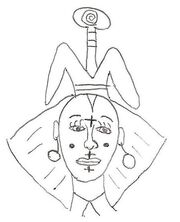 I want a golden pony!
—Zezeri, stating her goal in life
Zezeri was a female Human princess from Naboo who accompanied Yoda, Zorith, Zudu, and Ambrose Ius on a number of missions as a Jedi, including their fight against the G'ye Cult in the Thisspias system. She was a single child and owned a liter of orange goo, two ducks, two dinosaurs, an otta and a Monster-drinking straw. On Beroutz, she managed to realize her lifelong dream: the acquisition of a golden pony.
Appearances
Edit
Ad blocker interference detected!
Wikia is a free-to-use site that makes money from advertising. We have a modified experience for viewers using ad blockers

Wikia is not accessible if you've made further modifications. Remove the custom ad blocker rule(s) and the page will load as expected.