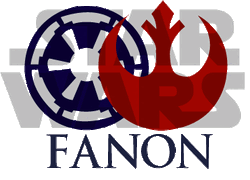 Welcome KyranEllis, to the Star Wars Fanon Wiki!
Hi! I'm Kyran Ellis and I hope you enjoy my contributions.</h1>
Come Back
Edit
Hey, please come back to the chat, i need to talk with some one!!  Andoide 17 (Talk) 04:06, December 9, 2012 (UTC)
Removing talk page messages
Edit
Hi there. We don't allow talk page messages to be removed unless they're archived. I've therefore moved the contents you removed to User talk:KyranEllis/Archive. If you want to remove messages from this page in the future, please put them in that archive. Thanks! - Brandon Rhea
(talk) 04:18, December 9, 2012 (UTC)
Spenpiano
Edit
Excuse me, that page Thangla Jur. Why does the picture say "added by Spenpiano" which is me. Can you explain?-- Spenpiano (Talk) 23:12, December 10, 2012 (UTC)
Hotlinking
Edit
Hi Kyran! Please don't hotlink images in your articles. If you wish to use an image in an article, please upload it to Star Wars Fanon. You can do that via Special:Upload or the in-text image uploader. You can learn more about uploading images here. Please also be sure to follow our image policy while doing so. We have an accompanying image policy tutorial as well. Let me know if you have any questions. Thanks! - Brandon Rhea
(talk) 20:14, December 11, 2012 (UTC)
Hi there. Please remember not to hotlink images. You need to upload them to Star Wars Fanon if you want to use them in a page here. Thanks! - Brandon Rhea(talk) 22:13, December 12, 2012 (UTC)
Editing other people's articles
Edit
I have reverted edits that you made to several articles. Before you add any information to an article, please check the article's history. If that article has one major contributor, you should ask that person if you can add to their article. Otherwise, it is considered fanon-stealing. Likewise, please do not change any information in articles with an (ASWS) suffix. Those articles are by Brandon Rhea for his project.
When it comes to editing other people's articles, generally only wording adjustments, grammar and spelling corrections, and formatting are allowed. Please do not go and change information in someone else's article. I'm certain that you would not be very pleased if someone went willy-nilly changing the story around in your articles. Thus, you should respect other's articles as well. Thanks. Trak Nar Ramble on 10:23, December 14, 2012 (UTC)
ASWS pages
Edit
Hi there. I've reverted your edit to Hutt (ASWS). Those are articles (generally) written by me, and they're part of the Alternative Star Wars Saga. Only information from Alternative Saga stories should go in those pages. You're of course welcome to add that information to non-user-specific pages, such as Hutt. Thanks! - Brandon Rhea
(talk) 21:39, December 14, 2012 (UTC)
Please be advised that in-universe articles are to be written in the past tense, as this all takes place "a long time ago." Thanks. Trak Nar Ramble on 02:31, December 21, 2012 (UTC)
Hi. You have been blocked for one (1) day for continued violations of our editing policy, despite previous warnings. As the editing policy states, users such as yourself agree not to add:
"their own ideas to an article that they did not create, and the article does not have a free-edit template or the user does not have the permission of the original author."
You have continued to add content to articles that do not belong to you. Such articles have included Yoda (ASWS), Jedi High Council (ASWS), and, most recently, Hutt Grand Council. You are welcome to create your own versions of these characters and organizations (such as Hutt Grand Council (KyranEllis)), but you cannot add information to other users' pages without their permission.
Please re-read the editing policy upon your return, and let me know if you have any questions. Thanks! - Brandon Rhea
(talk) 04:53, December 22, 2012 (UTC)
Categories.
Edit
When making categories, please remember to categorize them, too. Thanks. Trak Nar Ramble on 07:45, December 24, 2012 (UTC)
Blocked: Hotlinking images
Edit
| | |
| --- | --- |
| | You have been blocked from editing for three (3) days for hotlinking images, despite two prior warnings and the removal of hotlinked images. Please do not do this. If you want an image, you need to upload it. And if you want to upload an image, you need to source and license it, which has been explained numerous times. If you would read your talk page and take heed, then you wouldn't be blocked so often. It's not our (the administration's) fault that you are getting blocked—we are simply doing our jobs. If you need help with something, please ask us for help. We would be glad to help you. But, since you haven't made the effort, then we can't help you. One cannot help someone who doesn't want help. And thus, all we can do is enforce our policies, which you should take the time to read and follow. If you don't understand them, please ask. It takes two to tango. We will extend the hand, but you need to be the one to take it. |
To contest this block, please contact the blocking administrator with the reason you believe the block is unjustified. Trak Nar Ramble on 08:18, December 24, 2012 (UTC)
You have been blocked for two (2) weeks for continuing to use the fanon of other authors without permission, in clear violation of our editing policy. You have been warned on multiple occassions to stop doing this, yet you have persisted. This will no longer be tolerated. When your block expires, please respect this policy and the right of other authors to not have their work used or altered here without their permission. Thank you. - Brandon Rhea
(talk) 16:11, December 30, 2012 (UTC)
Eighth Wiki Awards
Edit
Hello! You're receiving this message because you were an editor here on Star Wars Fanon in 2012. Did you know that we're currently holding our eighth annual Star Wars Fanon Wiki Awards? In the wiki awards, you can nominate your favorite articles—written by you or another user—for any of the categories on the page. If you're interested in bragging rights, head on over to the Eighth Wiki Awards and nominate your favorite articles through January 31st. If you have any questions, feel free to contact the award hosts, Brandon Rhea and Trak Nar. We look forward to seeing your nominees!
Zaradd Image
Edit
Hello,
Thank you! But I need your help: which one do you like the best for my article of Zaradd? That one from Jabba (Clone Wars) or that one with Jabba eating a animal? Now I have that one of Jabba from the Clone Wars. Do you like it or do you think the other one with Jabba eating a animal is better? I can't wait to hear it from you!
Greetings,
Other images
Edit
Ok, I have uploaded a picture of Shaak Ti and a picture of Ziro the Hutt. I am going to upload some more pictures. I will upload a picture of Rotta too. Then other people can make articles about young Hutts or they can add that picture to an article of a Hutt and say: this is ... when he (or she) was younger. I have only one question: from which species aren't much pictures? Then I can upload some images of that species too. 
Greetings,
Another block
Edit
| | |
| --- | --- |
| | You have been blocked from editing for 2 weeks for continued use of the upload function despite being banned from uploading/adding images to the wiki. The use of flickr is cheating. |
To contest this block, please contact the blocking administrator with the reason you believe the block is unjustified. GoodwoodDebating Society12,014 Edits 04:47, January 21, 2013 (UTC)
Due to your use without permission of an image explicitly requiring it by the uploader/copyright holder (namely, File:YavinVassilikaCoverArt.jpg), in my estimation you have now crossed the final line. You are hereby banned from the Star Wars Fanon Wiki in perpetuity. Do not attempt to come back under another account. GoodwoodDebating Society12,014 Edits 20:28, February 19, 2013 (UTC)