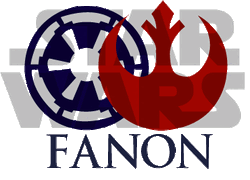 Welcome, Kapiton22, to Star Wars Fanon, the Star Wars wiki of fan invention!
As a community, we strive to maintain a fun and creative atmosphere for all users while also maintaining a sense of encyclopedic quality that we can show off and be proud of. The best way to help with that is for you, our newest valued user, to begin creatively expressing yourself with your article writing, and to get involved with the community! Need some help with your writing? We're here to offer that help in the Writing Center! The Senate Hall can also be used for asking about anything relating to Star Wars Fanon, including help in following our policies.
You're probably saying, "How can I get involved?" There are a number of ways that you can do that, which are all listed below, so we encourage you to check those out! Very importantly, there are also a number of policies that you will need to be cognizant of and agree to follow so you can have the best time possible, and to help make our great wiki even greater!
Getting involved
Before you edit
Improvement
Important links:
Star Wars Fanon is not about administrators, nor is it about the people who have been given accolades or awards. This wiki is about you, the community member and the valued writer. So long as a sense of encyclopedic standard is maintained, this wiki will continue to be the absolute best it can be, especially once you get involved in our community!
-- Brandon Rhea (Talk) 12:59, May 22, 2010
Joining the community
Edit
Hey Kapiton22! Sorry if this added message seems a bit overwhelming after the huge welcome message you just received, but what I wanted to say is important enough to re-emphasize it here. I wanted to make sure you were as aware as possible of the fantastic community we have here on the wiki. There is literally so much to do beyond just working on your own articles. I definitely don't want to sound like I'm suggesting you shouldn't work on your own articles, but there's a larger community out there too and we'd all love for you to get involved! If you have any questions about the community, which I strongly encourage you to participate in, don't hesitate to ask me. Thanks, and once again welcome to Star Wars Fanon! – -- Brandon Rhea (Talk) 12:59, May 22, 2010
Image guidelines
Edit
Hi Kaption, welcome to Star Wars Fanon! Before making any additional edits, please take a few minutes to read over and familiarize yourself with our image guidelines. These guidelines talk about how all images uploaded to the wiki need to be properly sourced and licensed using the {{Information}} template. Currently, the following images either need to be sourced, licensed, or both:
I've taken the liberty of adding the {{Information}} template for you, but you'll need to make sure they're all given proper sources and licenses by 4:30pm Eastern Standard Time tomorrow, Monday May 24th, or the images will have to be deleted. If you have any questions or need any help, feel free to let me know on my talk page and I'd be happy to help! You could also seek help from the community in the Senate Hall forum. Thanks! =) - Brandon Rhea

(talk) 20:30, May 23, 2010 (UTC)
Also, there were a number of issues in your articles that needed to be corrected, so I cleaned them up for you. I can't guarantee I'll always be able to do that, though, as everyone needs to learn how at some point. The best thing to do would be to give our article guidelines a good read. Be sure to let me know if you need any help. =) - Brandon Rhea (talk) 20:49, May 23, 2010 (UTC)
Hey again. Per the guidelines, Google is not a proper source. You need to link to the specific page you found the image on. Also, our available licensing templates can be found here. - Brandon Rhea

(talk) 22:25, May 23, 2010 (UTC)
Ectu-Ti was created by Cyberstrike3000X, and therefore, changing his article, be it dead or otherwise, is considered fanon-stealing. If you want to make an Ecu'Mesh article, then use this one that I have linked to. I put your text into the Ecu'Mesh article and reverted your edits and move of the Ectu-Ti article. Next time you wish to make an article, just simply make an article. Don't take someone else's article and rewrite it into something else. Trak Nar Ramble on 00:47, September 17, 2011 (UTC)