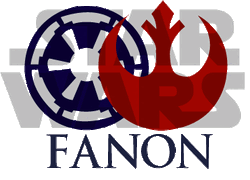 Welcome, Dsutcliffe, to Star Wars Fanon, the Star Wars wiki of fan invention!
As a community, we strive to maintain a fun and creative atmosphere for all users while also maintaining a sense of encyclopedic quality that we can show off and be proud of. The best way to help with that is for you, our newest valued user, to begin creatively expressing yourself with your article writing, and to get involved with the community! Need some help with your writing? We're here to offer that help in the Writing Center! The Senate Hall can also be used for asking about anything relating to Star Wars Fanon, including help in following our policies.
You're probably saying, "How can I get involved?" There are a number of ways that you can do that, which are all listed below, so we encourage you to check those out! Very importantly, there are also a number of policies that you will need to be cognizant of and agree to follow so you can have the best time possible, and to help make our great wiki even greater!
Getting involved
Before you edit
Improvement
Important links:
Star Wars Fanon is not about administrators, nor is it about the people who have been given accolades or awards. This wiki is about you, the community member and the valued writer. So long as a sense of encyclopedic standard is maintained, this wiki will continue to be the absolute best it can be, especially once you get involved in our community!
-- Brandon Rhea (Talk) 12:08, September 9, 2009
Manual of Style and images sourcing
Edit
Hey Dsutchliffe, welcome to Star Wars Fanon! Before you make anymore edits, please be sure to read our Manual of Style and take a look at some of our other articles so you can learn what the basic standards for this wiki are. Right now, Erik Wolfen needs a lot of work and has been tagged as such, and if it's not fixed up in a reasonable amount of time we'll have to delete it. We certainly don't want that, so please read the Manual of Style. If you need any help you can visit the Writing Center, and if you have any questions feel free to ask them in the Senate Hall!
Next, please read our image policy. In it, you'll see that all images must be properly sourced and licensed, which File:ErikWolfen.JPG is not. The image needs to be sourced by 5:20pm Eastern Standard Time on Thursday, September 10th or it will unfortunately be deleted. Again, if you have any questions about this, feel free to ask in the Senate Hall.
Also, it was probably just an accidental copy and paste error, but please don't add the featured article star to your articles unless they are, in fact, featured articles. Articles have to be voted as featured articles on the nominations page, which your article was not so I've removed the star. Thanks!

- Brandon Rhea

(talk) 21:20, September 9, 2009 (UTC)
Because the aforementioned image was not sourced or licensed in the twenty-four hours allotted to you, it has been deleted. Please be sure to read the image policy so this doesn't happen again. If you have any questions about it, feel free to ask in the Senate Hall. - Brandon Rhea (talk) 06:17, September 11, 2009 (UTC)
Hello. I just wanted to let you know that the Project Force Wars template has been removed from Talk:Erik Wolfen because that article is not part of Project Force Wars, nor are you listed as a member of the project. You're absolutely 100% welcome to join the project, but please be aware that we are not writing articles yet. We're not yet at the stage where we can properly write articles. If you have any questions, feel free to ask me. Thanks. - Brandon Rhea

(talk) 19:24, September 15, 2009 (UTC)