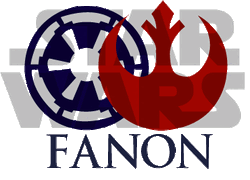 As a community, we strive to maintain a fun and creative atmosphere for all users—who we call Fanoneers—while also maintaining a sense of encyclopedic quality that we can show off and be proud of. The best way to help with that is for you, our newest Fanoneer, to begin creatively expressing yourself with your article writing, and to get involved with the community! Need some help with your writing? We're here to offer that help in the Writing Center! Want to work with others? Join a FanonProject! The Senate Hall can also be used for asking about anything relating to Star Wars Fanon, including help in following our policies.
You're probably saying, "How can I get involved?" There are a number of ways that you can do that, which are all listed below, so we encourage you to check those out! Very importantly, there are also a number of policies that you will need to be cognizant of and agree to follow so you can have the best time possible, and to help make our great wiki even greater!
Getting involved
Improvement
Before you edit
Important links:
Star Wars Fanon is not about administrators, nor is it about the people who have been given accolades or awards. This wiki is about you, the community member and the valued writer. So long as a sense of encyclopedic standard is maintained, this wiki will continue to be the absolute best it can be, especially once you get involved in our community!
Joining the community
Edit
Hey, Drsdino! Sorry if this added message seems a bit overwhelming after the huge welcome message you just received, but what I wanted to say is important enough to re-emphasize it here. I wanted to make sure you were as aware as possible of the fantastic community we have here on the wiki. There is literally so much to do beyond just working on your own articles. I definitely don't want to sound like I'm suggesting you shouldn't work on your own articles, but there's a larger community out there too and we'd all love for you to get involved! If you have any questions about the community, which I strongly encourage you to participate in, don't hesitate to ask me. Thanks, and once again welcome to Star Wars Fanon! – --Arav the Undersith (Contact Me) (My contributions) 05:11, 19 September 2008 (UTC)
Your question
Edit
There is no tutorial. To make a article, type in the article you ant to make into the search bit. Then you will see a red like with the name of the article for you. Click on it and create. Start off with a introduction about the article. Then add these things == Headline text == to make a headline. Eg == Early Life == and then write the characters early life. Then write add headings when you are done each part for a heading. Finally add a category to the article. Eg [[Category:Males]] for a male, Females for females. You also then can add categories like Sith, Jedi Master, Droid, Ship etc. The category always must have [[Category: in front of the name that suit the article. Just try what told you and then I will show you what is right, what is wrong and so fourth. See Narod Antrell for help. --Arav the Undersith (Contact Me) (My contributions) 05:11, 19 September 2008 (UTC)
Go to the main page. Underneath the paragraph that has "Policies on Star Wars Fanon" in big bold and red letters, you will see what looks like a search box. It's not a search box, though. Type in the name of the article you want to create in that box, and then hit the "Create Article" button. Then, it will take you to a large box where you can begin entering text for your article. Just don't forget to follow the Manual of Style and Categorization Policy when you post your article. - Brandon Rhea (talk) (contribs) 22:38, 19 September 2008 (UTC)
Notice: Image sourcing
Edit
Please read the Image Policy. Once you have and you've learned how to source your images, please properly source Image:Spore 2008-09-20 10-04-59.png using the guidelines found in that policy. If this is not done in twenty-four hours, meaning you have until midnight Eastern Standard Time on Monday September 21, the image will be deleted. If you have any questions, please let me know. - Brandon Rhea (talk) (contribs) 04:05, 21 September 2008 (UTC)
New work
Edit
I came up with the character Sona Cantari towards the end of 2005, well before Ahsoka Tano was thought of and the possibility of Anakin having a Padawan learner was just pointless fan speculation. As such, I have built up quite a story surrounding her and the existing continuity in the Jedi Padmé Trilogy and the Varicean Saga. The Clone Wars series already changes much of established canon to begin with, putting Ahsoka in there would really stuff up what I wanted to do. Katana Geldar 08:50, 25 September 2008 (UTC)
Probably not, as I have to work on strating a war, doing stuff with Han Solo and a lot of my other characters. I may do one, but it has never occured to me. And if for some reason I was to do Ahsoka, it wouldn only be fair to have her as Anakin's Padawan. Katana Geldar 22:34, 25 September 2008 (UTC)

I know my version of the Clone Wars lasts for five years, it was deliberate for reasons that are revealed when you read the Jedi Padmé Trilogy. Ahsoka is not on my list for the moment, I have my detective story with Jali Dawler and then I'm going to do some fics with Padmé in the Clone Wars as well as a few other things I want to explore. Don't get me wrong, I like Ahsoka and I think she's cool, I just have other things I am itnerested in right now. Katana Geldar 07:25, 26 September 2008 (UTC)
Hi Drsdino I'm Darth Spack and I saw you just joined. Welcome! And if you need any help with anything just ask me on my userpage. Darth Spack (Comlink) (Feats) 04:03, 28 September 2008 (UTC)
Help Developping new Fanfic
Edit
Can anyone help me develope new fanon stories? I'll give credit were credit will be due. Drsdino (Talk) 00:21, 9 October 2008 (UTC)
A word of advice: don't put thumbnail images in infoboxes. So just do Image:Whatever.jpg|250px. Hope that helps. Unit 8311
Talk! 18:19, 8 November 2008 (UTC)

You have been blocked from editing for one day for uploading unsourced images after being warned. To contest this block, please contact the blocking administrator with the reason you believe the block is unjustified. Drewton

(Drewton's Holocron) 18:21, 8 November 2008 (UTC)
Sorry. I edited a little of your Ahshoka article. Just an ending...Peanut64
Second block
Edit
You have once again been blocked from editing, this time for three days, for again failing to source your uploaded images which is a violation of United States Copyright Law. Your image has also been deleted. When you return from your block, please read the image policy, which you likely have not done already, because if this happens again your block length will continue to increase, the next time being one week. Thank you for your future cooperation. - Brandon Rhea (talk) (contribs) 03:11, 3 January 2009 (UTC)
Article titles
Edit
"The" in a title like Rakatan Wars may sound better to you, but "The" does not belong in the front of a name like that. It is improper encyclopedic formatting and is not allowed. Please do not add it back to the article again. Thank you. - Brandon Rhea (talk) (contribs) 02:47, 11 January 2009 (UTC)
Signature policy
Edit
Please read our signature policy, as your signature is currently violating it. As you can see, the policy says, "You must include your actual user name (or most common name), or an image depicting it, in your signature". Unfortunately, "Sith'ari 20050515" is not your actual user name, nor is it your most common name on this wiki. You need to include "Drsdino" in the signature. Thanks. - Brandon Rhea (talk) (contribs) 19:51, 31 January 2009 (UTC)
Hello Drsdino. You've been a member of this wiki long enough to where you should know this, but I've noticed myself and others correcting two errors you make quite often. The first is including "thumb" in your images in infoboxes. Infobox images are not thumbnails. If you want to put an image into an infobox, simply put this: [[Image:IMAGENAME|250px]]. Thumbnails are meant for articles. Second, you tend to categorize your articles only with "Articles by Drsdino". This is also going against the categorization policies. You need to have legitimate, in-universe categories in your articles. You can find a complete list here. Thanks, and I hope that helps you out a bit. - Brandon Rhea (talk) (contribs) 00:55, 14 February 2009 (UTC)
Re: A dumb question
Edit
Links are only provided if the wikis are partners with SWF. - Brandon Rhea (talk) (contribs) 22:12, 12 April 2009 (UTC)
Battle droid article
Edit
Your battle droid article has been moved back to Telkine battle droid. As the Manual of Style says, "Article names should be in singular form, not plural". The one you moved it to was plural. Please don't move it back. - Brandon Rhea (talk) (contribs) 03:24, 1 May 2009 (UTC)
Message removals
Edit
I added the messages you removed from Talk:Thel Andúril back onto the page. Per our archival policy, you can't remove messages from talk pages (this goes for any talk page, such as a forum talk page, article talk page, your user talk page, etc.) unless you place them into an archive, such as Talk:Thel Andúril/Archive1. The archive then has to be linked to on the talk page. Please don't remove messages again without archiving them. Thanks. - Brandon Rhea

(talk) 04:26, 22 May 2009 (UTC)
Just Curious
Edit
Is anyone cathing on to the themes in my articles?Drsdino (Talk) 20:58, 1 July 2009 (UTC)
Are you familiar with a site name jplegacy.org?-Chosen OneSo the Prophecy says... 03:42, October 31, 2009 (UTC)
Do I have to be honest or can I just lie? Drsdino (Talk) 03:45, October 31, 2009 (UTC)
Then yes. why do you ask? Drsdino (Talk) 03:50, October 31, 2009 (UTC)
No particular reason, I used to know someone there that had a screenname similar to this. It is not like I care that you are on here. You can do whatever you want.-

Chosen One

So the Prophecy says...

03:52, October 31, 2009 (UTC)
A complaint
Edit
Who's bright idea was it to introduce this new editing scheme? I can barly make heads or talkes of it, and I don't even want to mention the aggrevation I got from the Halo Fanon wiki from this qwaukery. Drsdino (Talk) 05:30, December 7, 2009 (UTC)
Go to your preferences, click the "Editing" tab, and then remove the check mark next to "Enable Rich Text Editing." That'll disable the new editor and will let you use the old version. - Brandon Rhea (talk) 12:07, December 7, 2009 (UTC)
Ahsoka Tano (LOTT)
Edit
Hi. I've moved your "Ahsoka Tano (LOTT)" article to User:Drsdino/Ahsoka Tano (LOTT). A very large part of the article, if not most of it, is copied directly from Wookieepedia, which we don't allow. If you'd like to move the page back into the article namespace, please be sure to first rewrite the copied portions so that they're not direct copies. Feel free to let any of us know if you need any help. Thanks! - Brandon Rhea

(talk) 20:31, April 10, 2011 (UTC)
Special invitation for Drsdino!
Edit
Hey, you! Yes, you!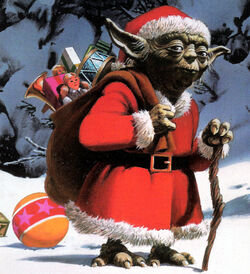 You're cordially invited to the 7th Annual Wiki Awards on the Star Wars Fanon Wiki! Come nominate, procrastinate, marinate, and pontificate over the best and brightest of the community's offerings with us! Sample the choicest works with your critical eye (monocle sold separately) and submit your own works for a chance to be enshrined in the annals of Star Wars Fanon history. You might write whatever you want to because it's fun, but getting shiny awards and bragging rights doesn't hurt either, right? We didn't think so.
Don't force yourself into exile, or look for alternative activities this winter. Whether your work is one of the myriad incarnations of Revan, a Sith Lord with a hard-to-pronounce name, or some random teenager's pet pittin, you'll find an entry where it belongs. (Editor's note: "Best Incarnation of Revan" and "Best Hard-To-Pronounce-Sith" did not make the categories list this year.) It's time to break out the ancient Sith armor and capes, the dress uniforms for every soldier, and something to catch the eye for every pretty lass. And did I mention our sponsors include Sarth's Darths, provider of the finest black capes in the galaxy? Join our star-crossed, er…star-studded collection of Star Wars Fanon administrators including Brandon Rhea, Goodwood, and Trak Nar as we celebrate the individualism and creativity on this wiki. And if you thought this announcement was cheesy, you ain't seen nothing yet. (Consider this a warning to those, like Fiolli, who are lactose intolerant.)
So fire up the hyperdrive, hope it doesn't catapult you a few millennia forwards or backwards in time, and head on over to the Seventh Wiki Awards. We'd love for you to nominate deserving works (including yours!) and help us choose the best entries for this year! We can't pick between all the entries without you! And if you see any other special snowflakes who need invited to the extravaganza, just slap this message on their talk page to spread some holiday cheer… or something.
So from two folks who've contributed far more at Wookieepedia than here, who habitually bring you either terrible puns or delicious pasta, please accept our sincerest invitation to the Seventh Wiki Awards. And remember, we're doing this all for the community, because that's what really matters on this wiki. Right? Yeah…
—Atarumaster88, 7WA cohost, general procrastinator, occasional writer, and constant instigator
—Fiolli, 7WA cohost, professor, silent contributor, and master of several fine culinary arts
Eighth Wiki Awards
Edit
Hello! You're receiving this message because you were an editor here on Star Wars Fanon in 2012. Did you know that we're currently holding our eighth annual Star Wars Fanon Wiki Awards? In the wiki awards, you can nominate your favorite articles—written by you or another user—for any of the categories on the page. If you're interested in bragging rights, head on over to the Eighth Wiki Awards and nominate your favorite articles through January 31st. If you have any questions, feel free to contact the award hosts, Brandon Rhea and Trak Nar. We look forward to seeing your nominees!