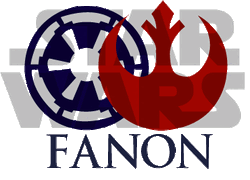 As a community, we strive to maintain a fun and creative atmosphere for all users—who we call Fanoneers—while also maintaining a sense of encyclopedic quality that we can show off and be proud of. The best way to help with that is for you, our newest Fanoneer, to begin creatively expressing yourself with your article writing, and to get involved with the community! Need some help with your writing? We're here to offer that help in the Writing Center! Want to work with others? Join a FanonProject! The Senate Hall can also be used for asking about anything relating to Star Wars Fanon, including help in following our policies.
You're probably saying, "How can I get involved?" There are a number of ways that you can do that, which are all listed below, so we encourage you to check those out! Very importantly, there are also a number of policies that you will need to be cognizant of and agree to follow so you can have the best time possible, and to help make our great wiki even greater!
Getting involved
Improvement
Before you edit
Important links:
Star Wars Fanon is not about administrators, nor is it about the people who have been given accolades or awards. This wiki is about you, the community member and the valued writer. So long as a sense of encyclopedic standard is maintained, this wiki will continue to be the absolute best it can be, especially once you get involved in our community!
—Victor, Sr. «discussion» 07:49, 2 August 2008 (UTC)
Joining the community
Edit
Hey, Dgw2008! Sorry if this added message seems a bit overwhelming after the huge welcome message you just received, but what I wanted to say is important enough to re-emphasize it here. I wanted to make sure you were as aware as possible of the fantastic community we have here on the wiki. There is literally so much to do beyond just working on your own articles. I definitely don't want to sound like I'm suggesting you shouldn't work on your own articles, but there's a larger community out there too and we'd all love for you to get involved! If you have any questions about the community, which I strongly encourage you to participate in, don't hesitate to ask me. Thanks, and once again welcome to Star Wars Fanon! – —Victor, Sr. «discussion» 07:49, 2 August 2008 (UTC)
Can you make a page for a char. you made on this wiki ~ Daniel 07:44, 2 August 2008 (UTC)
Yup, as long as it's Star Wars related. Be sure to read all of our rules and policies mentioned in the message above. :) —Victor, Sr. «discussion» 07:49, 2 August 2008 (UTC)
Go to the main page and there will be a slot to create an article – simply enter an article title in said slot and hit "create article" to begin. —Victor, Sr. «discussion» 08:12, 2 August 2008 (UTC)
There are a handful of errors, both in formatting and grammar based on our policies, so the article needs general clean up. On the story, can't really comment, since there isn't much of one in there. Just read up on our policies and you'll get the feel for it. If you need further help, please ask an Administrator instead (I am not one). —Victor, Sr. «discussion» 08:48, 2 August 2008 (UTC)
Regarding articles
Edit
Please be sure to read our Manual of Style and our Layout Guide. There you will learn the requirements an article needs in order to be considered legitimate and avoid candidacy for deletion. You recently created an article with only an infobox, which is not allowed. All articles must have at least two things in order to avoid deletion: at least one line of legitimate content, and at least one category.
Your article only contained an infobox and nothing more, and therefore needs to be fixed immediately or it will be deleted. One line of legitimate content (outside the infobox) refers to an introduction or a description of the said article in accordance to our formats (past tense and in-universe). Illegitimate content (when standing alone) includes behind the scenes, authors' notes, and quotes. Please read our categorization policy, where you will learn that you must categorize your articles upon creation, along with the legitimate content.
If you do not follow these policies, then, unfortunately, the article(s) will be deleted, and if you continue to create articles with only an infobox, you will be banned in accordance to the blocking policy. That's the last thing we want to see happen, so I recommend that you fix up any mistakes immediately.
Thank you for your future cooperation. -- Knowledge the Article Writer talk 02:59, 3 August 2008 (UTC)
Welcome and policies
Edit
Welcome to Star Wars Fanon! We're glad you've decided to make a home here for your creative efforts in Star Wars story-telling! However, please be aware that we do have some Policies that you need to know, so as soon as you see this please take the time to read over and become familiar with them. Knowing these will make your stay here more enjoyable, because you won't have to here a lot from Administrators like me.

Anyway, I'll point out what policies you've broken so far so you know what to correct in the future. The first is the Image Policy, and this is one of the most important ones that we have because it deals with United States Copyright Law. In simple terms, the law is being broken if images that you upload are not sourced correctly, and we certainly don't want that. So far, you've uploaded three images and none of them are properly sourced. Those images are Image:Dual Blades.JPG, Image:Red Shoto.JPG and Image:Yolta.jpg. The first two images have absolutely no sourcing information on them. The third one does, but it's incorrect.
For example, the policy states that "Wookieepedia" is not a source, and this is true. You need to cite the EXACT source of an image, aka. the source that Wookieepedia uses on their version of the image. Also, just for clarification purposes on it, don't put "My char." or anything like that in the description line. Since this is about your character Yolta, you'd want to put [[Yolta]] there. Anyway, please read this policy and correct the third image, and then be sure to properly source the other two. If you have any questions about that, please let me know.
Another policy that I'd like to cover with you is the Categorization Policy. As that policy states, all articles must be given a proper and legitimate category (what this means is covered in the policy) upon creation or it will be deleted. However, because you're new here and your articles have already existed for some time, I have categorized them for you. The articles in question were Darth Hon and Darth Wall's dual double-bladed lightsabers. In the future, you will be given twenty-four hours to categorize your articles, and if that is not done then articles are subject to deletion. If the problem continues to persist after that, you could be subject to a short block from editing. I don't want to see that happen and I know you don't want that to happen, so please be sure to follow the policy. I have confidence that you already know what to do, as you already correctly categorized Darth Hon's shoto.
Finally, another important policy I'd like to run by you is the Manual of Style. This policy basically just says the proper way to write an article here on Star Wars Fanon. Each of your articles failed this policy in a certain way, but I have cleaned them up for you. Be sure to check them out to see the changes I have made, which basically ranged from adding an introductory paragraph to cleaning up a list and putting it into article format.
Alright then, so I've gotten my ramble out of the way. If you have any questions after you've hopefully read all of this, please let me know. Once again, welcome to Star Wars Fanon!

- Brandon Rhea (talk) (contribs) 16:25, 3 August 2008 (UTC)
Then next to "source=" on the template, put this (without the quotes): "The original source of this image is unknown. They were taken from the computer of the uploader's brother and the original source cannot be found at this time." That will be acceptable under the Image Policy. Also, what do you mean by a category page? Do you mean your own new category? What type of category do you want? - Brandon Rhea (talk) (contribs) 00:10, 4 August 2008 (UTC)
Well, categories for individual characters are unnecessary and redundant. The best way to have a category of your own is to have one with your name on it to state that the article was written by you. I have created Category:Articles by Dgw2008 for you and you can put this at the bottom of all of your articles along with the other categories. With this category, all of your articles will be listed in it and you will be able to keep track of all articles you make. - Brandon Rhea (talk) (contribs) 00:20, 4 August 2008 (UTC)
The same as you would any other category. Simply type [[Category:Articles by Dgw2008]] underneath the text of the article. - Brandon Rhea (talk) (contribs) 00:35, 4 August 2008 (UTC)