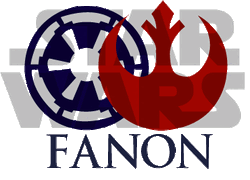 As a community, we strive to maintain a fun and creative atmosphere for all users—who we call Fanoneers—while also maintaining a sense of encyclopedic quality that we can show off and be proud of. The best way to help with that is for you, our newest Fanoneer, to begin creatively expressing yourself with your article writing, and to get involved with the community! Need some help with your writing? We're here to offer that help in the Writing Center! Want to work with others? Join a FanonProject! The Senate Hall can also be used for asking about anything relating to Star Wars Fanon, including help in following our policies.
You're probably saying, "How can I get involved?" There are a number of ways that you can do that, which are all listed below, so we encourage you to check those out! Very importantly, there are also a number of policies that you will need to be cognizant of and agree to follow so you can have the best time possible, and to help make our great wiki even greater!
Getting involved
Improvement
Before you edit
Important links:
Star Wars Fanon is not about administrators, nor is it about the people who have been given accolades or awards. This wiki is about you, the community member and the valued writer. So long as a sense of encyclopedic standard is maintained, this wiki will continue to be the absolute best it can be, especially once you get involved in our community!
--Darth Tyler Talk to Palpy Palpy is awesome 11:38, 26 April 2007 (UTC)
Joining the community
Edit
Hey, Allronix! Sorry if this added message seems a bit overwhelming after the huge welcome message you just received, but what I wanted to say is important enough to re-emphasize it here. I wanted to make sure you were as aware as possible of the fantastic community we have here on the wiki. There is literally so much to do beyond just working on your own articles. I definitely don't want to sound like I'm suggesting you shouldn't work on your own articles, but there's a larger community out there too and we'd all love for you to get involved! If you have any questions about the community, which I strongly encourage you to participate in, don't hesitate to ask me. Thanks, and once again welcome to Star Wars Fanon! – --Darth Tyler Talk to Palpy Palpy is awesome

11:38, 26 April 2007 (UTC)
For future reference, just the other day I decided that I want the SVS character infobox to go with only my characters, so please do not use my box on any of your articles. Also, template:SVS Era is also for only my characters, because it contains eras that are only in my storyline; however, if you need help with the era icons, simply tell me and I will help you.

(Talk) I'll avoid any of yours articles for template assistance, then. The only eras I work with are the Old Republic, Rise of the Empire, and Rebellion Era. Anything past the Zhan books doesn't interest me much anyway. The Vong arc reads like someone decided to run Star Wars through H.R. Geiger, pull a crossover with Hellraiser, and use DC's "Infinite Crisis on Infinite Earths" as a chaser ("Let's slaughter our catalog of characters and burn worlds by the truckload and call it 'shocking drama!'") Allronix 05:52, 1 May 2007 (UTC)
Um, my eras don't follow the Vong war. I too, disliked that era/series. My eras are created. (Talk)
For the record, you did not piss me off, in any way. Just thought I'd let you know how things work around here. Please, do not be mad (if you are), and instead allow me to aid you in understanding formatting and working out templates. I can even create templates with any colors you wish, if you want. (Talk)
Not mad at all. Embarrassed and apologetic, yes. Something like this is too good a resource for fanfic writers. I don't intend to abuse the privledge of being here. Allronix 06:12, 1 May 2007 (UTC)
Good to know you're not mad. If you ever need help, just let me know. (Talk)