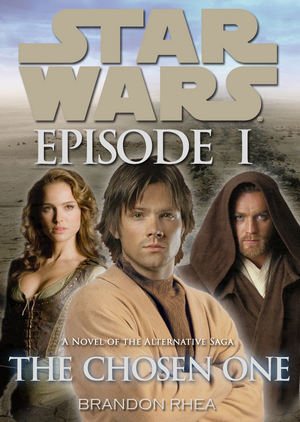 Hi all, it's been quite awhile since I gave any sort of update on the progress (or, as you might be thinking, lack thereof) on Star Wars: Episode I - The Chosen One. I wanted to make a brief blog just saying that I am still working on it, it's just gone through a lot of changes from the previous versions you may have read. Rather than just some tweaks and little changes here and there like I had previously announced last summer, the story, while familiar in some parts with a lot of the same elements (Ophuchi, Hutts, etc), is significantly different from what you may have read of it before.
Within the next few days, I'll be releasing a blog post with a lot of announcements about The Chosen One, including brief character overviews meant to give you a vague and general idea about who the characters are. The post will give you a very brief summary and overview of what you might expect while reading The Chosen One, as well as some tidbits on its planned sequels. Some of the characters you read about will be familiar to you from previous drafts, while others have been changed either significantly or somewhat and even others who are brand new to this final definitive version of The Chosen One.
Time permitting, I may even release a sneak peak at some of the narrative, possibly the prologue—which serves as a brief introduction not only to the main character, but an introduction into the world you'll be immersed in and the theme that goes along with it. I say 'immersed' for a very important reason: while many elements of the Star Wars universe are still the same in this version of the Alternative Saga, it's very much an alternate universe story. This is your re-introduction into a universe. As a wise Jedi Master once said, "You must unlearn what you have learned." The novel is written as if you've never heard of Star Wars before. I won't bore you with things you already know, though, but it's written to be accessible to anyone who has never seen Star Wars before—something Star Wars Episode I: The Phantom Menace failed at doing.
It's hard for me to believe, but if and when I release this sneak peak it will be the first content from The Chosen One that I will have released in over 15 months!
As a current sneak peak, since it's been so long since my last update, I've included in this blog post a brand new cover for The Chosen One, reflecting the changes that have been made to the story. This cover, as always, has been created by our resident Squishy Vic. Full credit for the background image and all the other images used can be found on the file description page.
That's it for now. Stay tuned and I'll release some new information soon!
Ad blocker interference detected!
Wikia is a free-to-use site that makes money from advertising. We have a modified experience for viewers using ad blockers

Wikia is not accessible if you've made further modifications. Remove the custom ad blocker rule(s) and the page will load as expected.