Underworld: The Yavin Vassilika
Attribution
Cover artist(s)

Britt Roth in the style of Carlos Meglia

Publication information
Publisher
Released

August 30, 2009

Type

Audio adaptation

General information
Era(s)
Timeline
Series
Underworld: The Yavin Vassilika is an audio adaptation in five parts of the comic series of the same name. The first chapter was released on August 30, 2009.
Opening crawl
Edit
Underworld
THE YAVIN VASSILIKA
Production
Edit
The first chapter of the audioplay was recorded in Audacity. The initial recording began in Christmas of 2008. This was Crackwater Productions' first foray into audio.
Finding the required time to record, voices, and the program's own faults hampered production a few times as dialogue needed to be redone after the initial file was corrupted. The crew stated that while an audio was easier on their budget, it was not light on the workload. However, they enjoyed the project and plan to continue.
Production on the second chapter is still ongoing.
Cast and Crew
Edit
Audioplay by: Britt Roth
Original story by: Mike Kennedy
Published by: Crackwater Productions
Directed by: Pierce Roth
Voice cast: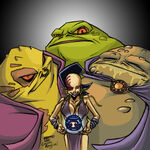 External links
Edit