The Completely Unofficial Star Wars Fanon Newsletter


Volume XVII - June, 2008

Hello, CUSWFN/XVII/News, and, once more, the CUSWFN is here to greet you right at your doorstep, for June, 2008!

CUSWFN News
Edit
Written by Darth tom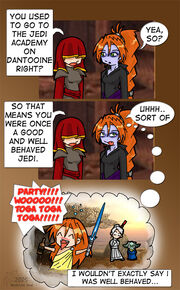 So, we're now Wikia's oldest newsletter, a testimony both to this newsletter and to CUSWFN itself, in my opinion! We've seen in previous editions, Edition X, the changes in the skin to CUSWFN, but now let's look ath the inspiration behind CUSWFN, and the users who have been behind us since the beginning. Tader's inspiration was, after being a contributor to Halopedia, and seeing the Oracle Newsletter, Tader decided that Star Wars Fanon could do with one. After speaking to Squishy Vic over the IRC, Vic approved the idea, and CUSWFN was born.
Some early supporters of CUSWFN were NKSCF, a User who pledged to help the newsletter and signed up to receive it, and C3PO the Dragon Slayer, who offered to support it. I understand that C3PO and Tader knew each other quite well, both discussing game maker, Tader for Mandalorians: Path to Glory (now deleted) and 3PO for Avian Hunt. C3PO and Tader agreed that CUSWFN wouldn't become official, so that each decision wouldn't have to be approved by the public (even now, we're only semi official), and this continued. Although not many users received the first edition, users like Gyasz Kudeb soon signed up to receive it, and more soon followed.
After Tader left early on, the newsletter collapsed, until he returned and published another two editions, when he left for the final time and, despite CUSWFN being handed over to Xepeyon and Shadowphobia it collapsed, and lay dormant since 2007, until I came and restarted it in 2008, some time around 2 or 3 months ago. I've enjoyed my time working here, and I wish Brandon and Vic all the best; I'm sure they'll do great.
Beneath here, I've published a list of all the Meet a Users, in the correct order, since my takeover.
In terms of users on the wiki who weren't celebrated in this way, there've been a few. I don't think Jedi Master 76 has done much recently, but he's coming back, and his work in the past was good. Drewton has done a lot of good work so far, which I'm a fan of, and I think he can progress to become a much better user, and even gain official positions in time. Unit 8311 is developing and, once people lose the stereotypical view of him they still hold from some of his actions in the past, he'll be seen as a better user; Project Cruentus has only been as good as it had because of his hard work. Brandon Rhea has been a fantastic help to me, and he's one of the greatest users this wiki has, and could have. Vic's another great user, and the work he puts into this wiki is fantastic, and there's also many other users. Trak Nar is always willing to help, and her image work always has been fantastic. So, goodbye all!
CUSWFN edition XVII
CUSWFN EXVII