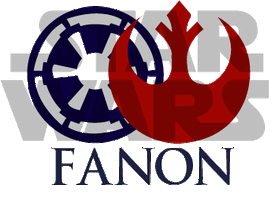 Welcome to the eighth annual Star Wars Fanon Wiki Awards!
The Wiki Awards began in 2006 in order to highlight and honor the best articles and stories on the wiki from multiple categories. This year is no different, and the co-hosts for these awards, Brandon Rhea and Trak Nar, have teamed together to carry on this tradition in a fun awards season for everyone!
You might be wondering how you can get involved. It's easy—nominate and vote! You can nominate your own pages, or nominate ones you like that were written by others. We're here to showcase the best of the best, and you can help the community decide what will win.
Schedule
The schedule for the Eighth Wiki Awards is as follows:
Nomination period: January 5 – January 31, 2013
Voting period: Febrary 1 – February 14, 2013
Tie-breaking period: To be determined
Nominations will end at 11:59pm Eastern Standard Time on January 31st. Likewise, voting will end at 11:59pm Eastern Standard Time on February 14th. If necessary, a tie-breaking period will be held on a date to be determined in the next few weeks.
If there is no tie-breaking period, the winners will be formally announced on February 15, 2013.
Rules and guidelines
Anyone can nominate an article of their choosing for an appropriate award. This includes works by you and by other authors.
An entry may be nominated in more than one category with exception, but all categories must be applicable. The exception is that they may only be nominated in one (1) era category.

Previous winners are ineligible for nomination in the categories they previously won. For a complete list of all previous winners, please see 

the Wiki Awards main page

.

No author is allowed to have more than three (3) entries in a given category or to monopolize a category in its entirety.
If an entry in question is deleted or drastically edited to make it no longer qualify for the category for which it was nominated, the entry shall be removed.
If an author or co-author of an entry asks for an item to be removed from any category, the entry shall be removed. If an author wishes to be removed from "Best Author" consideration, their entry shall be removed.
All entries must follow the content policy.
Nominations
Best Pre-Movie Era Character (before 32 BBY)

Best Movie Era Character (32 BBY—4 ABY)

Best Post-Movie Era Character (after 4 ABY)

Best Light-Sided Character

Best Dark-Sided Character

Best Overall Character

Best Droid

Best Organization

Best Location

Best Event

Best Technology

Best Miscellaneous

Best Fan Art

Best Short Fan Work

Best Long Fan Work

Best Author
Voting
Winners
The following are the winners of the Eighth Wiki Awards.
Ad blocker interference detected!
Wikia is a free-to-use site that makes money from advertising. We have a modified experience for viewers using ad blockers

Wikia is not accessible if you've made further modifications. Remove the custom ad blocker rule(s) and the page will load as expected.