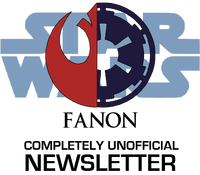 Welcome to one of the Headquarters of the Completely Unofficial SWFanon Newsletter. This may just be a User-Sub-Page, but it will do, so here will be the list of new Newsletter, latest CUSWFN news, and updates.




Looking for the CUSWFN Competition page? See here.




CUSWFN, the Completely Unofficial Star Wars Fanon Newsletter, is, as it says in the name, a newsletter for Star Wars Fanon. It contains articles that can be written by anyone at all, regardless of status here on SWFanon. If anyone has an article that they would like to be in the newsletter, please do leave it at the bottom of this page, were it will be viewed by myself and, if I deem it good enough, it will be published into CUSWFN. So please, do put it at the bottom of this page, in the correct section! I will also place my articles in here, in the template, so as to see what they look like also, and to show you what sort of articles we are looking for. If you're here to put a user comment, then please put it on this User sub pages' talk page. Darth tom Chit 'n' Chat 09:41, 16 March 2008 (UTC)
CUSWFN Library
Edit
Sponsorees
Edit
This is a section for all of the Projects and fanonical works that CUSWFN sponsors. By sponsor, we publicly acknowledge and support these Projects, will publish any and all update articles about these projects and will help in whatever way possible.

Your rights as sponsorees:
You may ask for assistance from CUSWFN whenever it's required.
You may state your Project as a CUSWFN sponsored Project.
You may submit any and all articles involving updates and expect to see them published, unless otherwise noticed.
You may terminate the sponsorship whenever you wish.
Our rights as sponsors:
We may refuse sponsorship to any and all Projects if we deem them unworthy.
We may terminate any and all sponsorships whenever we wish (this is a rare occurrence).
Sponsored works:
PLACE YOUR ARTICLE IDEAS BELOW HERE PLEASE
Mascot/s and motto idea
Edit
I Arav the UnderSith think that CUSWFN needs a mascot or mascots. I think C3P0 and R2D2 are great contenders because they are neutral droids and are well known. If not then i think Jolie Bindo because he is a grey jedi or the Exile because she is a grey jedi. Anyway here they are! If you dont like them I also think Reven and Malak are the other contender for the Mascot's other than C3 and R2.!
Images removed, as no longer needed and an ugly sight.
Well these are mascot and mascots ideas. Also for a motto it could be "Sith Happens" just an idea.

Thanks.--

Arav the Undersith (Contact Me) (Battles I've Fought). 07:30, 24 April 2008 (UTC)
OK, thanks for your ideas, however, I have some issues. I'll start with the motto. No offence, but it's completely random, and has no relevance at all to CUSWFN or what it stands for. Would a (I quote an English newspaper name, as I have little knowledge of US ones) newspaper such as the Times have a motto such as Dogs Happen? It's a little random. And, for the mascots, while I like the idea, those images also have little that's wanted. If you look at most mascots, they're of more of a cartoon basis, such as Wookieepedia and Mount Sorrow. And, also, they don't often have backgrounds. If you went onto PSP or Photoshop and edited these or made a completely new mascot, I'd like it better. However, I like your thinking, and would encourage you to continue and create one on PSP or something. My page iChat What I've done 16:20, 24 April 2008 (UTC)
Yea. My motto is completly random. I knew that when I posted it. It was just an idea. also for the mascot/s,yes they need to be in cartoon. I dont have Adobe Photoshop but ill be getting it soon. Ill try find some already cartoon images.--Arav the Undersith (Contact Me) (Battles I've Fought). 23:48, 24 April 2008 (UTC)
Well I think that we don't need a mascot, this isn't a sports tean, we just need a logo and a slogan/motto, mine is, CUSWFN, cause there's no where else for your Star Wars Fanon news...., I think it's okay, and please no mascots, it's a nice little idea, but not here please.
Tader, may I point out that you aren't the be all and end all, and neither am I. Yes you founded this, however CUSWFN is based as a community newsletter, and we shouldn't restrict people's ideas as to what they think should be included; that's taking it for yourself, and shutting out other people. And may I also say that Wookieecast isn't a sports team either? Anyone who wants to may put a mascot up, as this is a community thing, and not the newsletter of one user. My page iChat What I've done 16:54, 28 April 2008 (UTC)
Star Wars: Legacy of Rella - By the Author, Elitolu Edit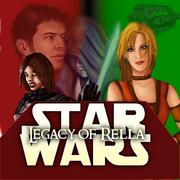 I started Star Wars: Legacy of Rella on the 6th of May. It started when after watching all the original trilogy movies, my sister said," There is no girl jedi in the movies."
I said," There are many, like Shaak Ti, Aayla Secura, and Yaddle."
Then she doubtfully replied," No I meant a main character."
So after that discussion I started doodling in my sketchpad (if I had a scanner I would upload them sometime) and started drawing characters, one which IO pictured to be the main character, a girl jedi. After that i took a notebook and started putting character outlines. I made up random names. I wrote it like:
Name: Rella Sonata
Race: Human
Appearance: Red clothes with a gold accent to outline it. Blond hair that goes to her shoulders.
Well after making at least five characters I started planning out some stuff. I was going to make a movie out of the sketches with Jedi Knight Academy, but I'm not good at modeling, script, or I couldn't find maps and things that would help with it. So I wrote a story.
I wrote it about a teenage girl that is somewhat my sister's character. I started writing a plot for it and said it would have clones of one of my favorite villians, Darth Nihilus. Since I didn't want another male character for the primary villian I chose to do a female. I always write what's on the top of my head, so I started writing about how this average Jedi, Rella Sonata, comes to a new Enclave on Dantooine. She is given the task to secure a lightsaber until she gets it to the council. The enclave shortly gets attacked by Sith. Rella, a jedi named Jeremy Solo, and a pilot, Lesley, take the lightsaber to Coruscant. When they do another jedi, Sihari Unumbi, comes along to assist Rella on her mission to end the creation of a new Sith Empire. She gets two explorers willing to help her, Varis and Ira. They find two droids who have a secret dark secret.
I hope one day that I (or someone else) will make a movie out of it for my sister to enjoy and others as well. I think this hoping-to-be full length tale about the legacy of the legacy era will be enjoyable for all of those star wars fans.--Elitolu
Review by Obi Maul12
Edit
Ussej Padric Bac, the first and most prominent character of Brandon Rhea, was a Human Jedi Knight during an era known as the Great Territorial War. While in the role of a military commander, he held the rank of Jedi Colonel and took command of the Galactic Republic's Gold Squadron during the Bombing of Pho Ph'eah. He then led them in other missions such as the Second Battle of Corellia and the First Battle of Coruscant. For the first thirty years of his life, Ussej lived the sheltered life of a Jedi Knight within the walls of the Great Jedi Pyramid, though while he was in battle he gained a reputation and was able to become a hero to the people of the Republic. His fairly simple life was ripped to pieces, however, when his former friend Kit Corwin Rendar become the dreaded Darth Ravinos and laid waste to Pho Ph'eah. Around the same time, Jedi Master Adena Qel-Droma because Darth Viea, the Dark Lady of the Third Sith Empire, and his friend Dexon Kyjar also became Darth Brenos. Combined with his conflicting feelings over some elements of Jedi society, Ussej began walking down a path of paranoia and mistrust, making him always look over his shoulder and not trust those who he should have been able to trust, including close friends such as Grandmaster Damien Nightblade.
Towards the end of the war, Ussej began to have feelings for Laili Jeyna Rendar, the sister of Darth Ravinos, after encountering her outside the Great Jedi Pyramid. He agreed to take her on as a Jedi Apprentice so she would be prepared to try to save her brother from the dark side, and during one of their sessions he upset her with hurtful comments that he came to regret and later apologized for. After Ussej and Laili made love for the first time, Damien called Ussej to a meeting to discuss the dangers of love. Ussej became even more paranoid as he beleived there was a conspiracy against him between the members of the Jedi Council. This belief was further enhanced after Arael Maans, the Queen of Onderon, mistakenly believed that Ussej had taken advantage of Laili before abandoning her in the middle of the night. In the end, Arael said that it was a simple misunderstanding, but Ussej believed that she was also a part of the conspiracy against him. It was not hard for him to believe, as Arael was the secret lover of Damien Nightblade.
At first glance, it is fairly obvious that Rhea has put a tremendous amount of work into the article, and this ends up being true once the reader finds out that he has worked on this character for three years. The reader also finds out that Rhea intended to name the character Padric Bac, though he was convinced by Steven Alldis, owner and founder of TheStarWarsRP.Com, to name him "Ussej" as that is a respelling of "Jesus". This reflects the original idea of the character being a false Chosen One.
As the reviewer, I agree with Ussej's and possibly Rhea's opinion about the Jedi Code, mainly that love should not be forbidden. The quote on my user page shows this. Creative and well-suiting pictures were also spread throughout the article as well, and it is fortunate that the author had a supply of them to rely on, most of the images coming from SCI-FI's Frank Herbert's Dune and Frank Herbert's Children of Dune.
Rhea states in his Behind the scenes section that Ussej's life somewhat mirrors the life of Anakin Skywalker, and perhaps the life of his other character Annikin Skywalker from Star Wars: Episode I - The Chosen One. I also thought that using Biblical references helped add flavor to the article. The action sequences were also spread out fairly evenly with the quieter scenes. I always make sure to check for this, as I do not like it when people make ninety percent of the article "bam, bam, bam" action sequences. I am also happy that the article includes references from the original trilogy, such as Ussej being born on First Battle of New Alderaan] like his ancestors. The name of his maternal grandfather, King Leto Antilles, is also a likely reference to Queen Breha Antilles Organa who was shown in Star Wars Episode III: Revenge of the Sith.
Finally, I just want to say that I really also enjoyed some of the quotes in the article, for they were obviously well thought out and interesting for the most part. It was a wonderful article overall, one that is very intriguing, and I would recommend it to anyone who is into Star Wars. I would even take it a step further and say that science fiction fans in general would take some level of interest in it. Very well done.
This week's Featured Article and Good Articles are out. These are articles that range from excellent featured articles to newly made Good articles. Please do enjoy!
This week's Featured Article: Jaden Korr (Dark Order War) --Written by MPK
Jaden Korr was a talented Jedi Knight, who later became a Dark Jedi. He was born on Coruscant as the son of a Corellian journalist. He was the apprentice of an experienced Kyle Katarn, and was one of Katarn's most talented apprentices, until temptations in the later half of his life caused him to turn to the dark side. He then initiated the Dark Order War, threatening to take control of the galaxy, and almost succeeding, had his old master, Katarn, not found him on the planet of Bakura, and defeated him in a lightsaber duel, leaving him to die.
I feel that this this article adheres to an incredible standard of quality. All of the pictures have relevance to the article and add a great amount of flavor to it. It was a clever on MPK's part to write it, as it's a great idea to write fanon versions of canon characters, and serves as an example to new users of what can be done on the wiki while the article is on the main page. This ending of Jaden Korr's life in Jedi Knight: Jedi Academy is better than the good side ending, as this ending seems to fit more into Jaden's true feelings of power, I believe. MPK has taken this character and made an excellent story out of him, and it would be a nice continuation of the Jedi Knight storyline if LucasArts ever decided to go ahead and make a fourth game. I was drawn to this article, first, obviously, after seeing it on the main page, but the fact that MPK used canon characters and changed their storylines around kept me reading the article and examining the pictures. The pictures were also a nice addition to the article specifically because MPK was able to change their true meaning/location and make them seem as though they were truly canon, and part of his alternate universe. The only thing that could be considered weak about this article is the beginning, however since MPK was keeping the original canon information, it's not his fault. I recommend this article to anyone who likes to read long but enthralling articles, especially those who like Fan-Canon articles.
Review (GA Updates) by Obi Maul12
Edit
Darth Malum, born Cernos Antrell, was a Sith Lord in Darth Ruin's New Sith Empire that hailed from Thule. Cernos was a member of the Antrell family who first, like many Sith Lords, became a Jedi Knight of the Republic. Cernos grew strong in his time with the Jedi under the tutelage of Jedi Master Atria Tulama, and under the secretive mentoring of Phanius, who later became Darth Ruin. After passing his trials of Knighthood, Cernos became more and more involved with Phanius, and he eventually became one of the fifty Jedi Knights to follow Phanius's teachings, which became the New Sith Empire. Upon his induction to the Sith, Cernos dropped his name for the Sith moniker Darth Malum.
Darth Malum eventually was involved in the unofficial civil war within the New Sith Empire, after the bombardment of Sullust that nearly ended his life. After the event, Malum partnered up with fellow victim Darth Mortalis, and together they began to hunt down the traitor, Darth Eradix. What they didn't realize was that Eradix did not act on his own behalf, but on the behalf of a group of conspirators which included Darth Annila. Malum and Mortalis ended up in a duel against Eradix. was killed and Malum injured. Malum was later healed by Mortalis.

When I first read the introduction to this article, I found out, with much satisfaction, that the author of this article, Victor Dorantes, didn't use the stereotypical storyline of a star wars character, and instead altered it to make an enthralling piece of work. By the steryotypical storyline, I mean the typical story of a good guy becoming a bad guy because of….. He also included some canon characters (Darth Ruin) and added fanon to their storylines, similar to MPK's ''Jaden Korr'', which appeals to me as well.
I found it very comical, although true, when Vic stated that "Darth Malum was, overall, insane." Malum also slightly mirrors some of Anakin Skywalker's feelings, like the character for the featured article of this week does, as Malum had always wanted "a life greater than his own", and a life of great power, like Anakin did.
I was also intrigued by the images, as they are of Darth Vader's secret apprentice in the upcoming game, Star Wars: The Force Unleashed. Using images such as these, specifically images like the one that depicts Darth Malum's escape, helps to create a basis on which a story can be formed upon or around. I would recommend this good article to anyone planning to buy "The Force Unleashed" when it debuts, as well as anyone who is searching for an article with many surprising twists and turns. All in all, though, anyone looking for a great story should look here, as with most good articles.
--TOM: This article is now the featured article for the week. Since the Fa/Ga updates are no longer valid, perhaps we could include this as next CUSWFN edition's FA review, since it's the same either way? -- Obi Maul12(Meet a Warrior)(talk to me) 04:55, 4 May 2008 (UTC) --OBI: Whenever CUSWFN is published the Updates are no longer valid; theupdates in a week's edition are from the previous week. Whilst I agree that it will be annoying for next week, I don't see any reason why we should suddenly change this week.
My page iChat What I've done 05:48, 4 May 2008 (UTC)
Black Armor: An Editorial on Dark Troopers by MPKEdit
Star Wars: Dark Forces, the first game in the Jedi Knight series, put the player in the shoes of a rebel agent named Kyle Katarn in his battle against a secret weapon being developed by the Galactic Empire. Although technologically a primitive game by modern standards, Dark Forces is a great FPS game and I highly recommend it to anyone who doesn't already have it. It even has a modding community to this very day, even though it's over a decade old. Now that is saying something.
Dark Forces was made back in what many people view as the Golden Age of Lucasarts— back when they always made thier own games, when they almost always kicked ass, and when they weren't always Star Wars games. Other products of the Golden Age include adventure games such as Indiana Jones and the Fate of Atlantis and TIE Fighter, the second in a series of fighter simulation games and the only game in the entire Star Wars license which I believe beats KOTOR 2 hands-down.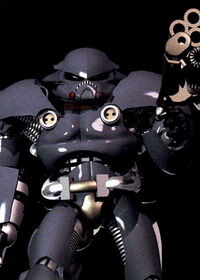 Of course, at this point I'm sure I appear to be rambling on about "the good ol' days", which is true, but believe it or not, this is relevent to the topic that this section is devoted to. The point I'm trying to make here is that back when Dark Forces was made, Star Wars was in many ways a lot more consistent with itself than it is now. You'll see what I mean in a minute.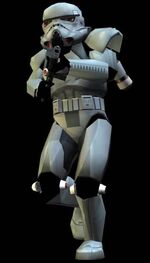 Dark troopers were first introduced to canon in the game Dark Forces as a project run by an Imperial general named Rohm Moc, to develop battle droids for the Empire to use to reinforce their stormtrooper ranks. Dark troopers came in three phases. The first was thin and skeletal in appearance, armed with a shield on one arm to deflect laser fire, and a vibroblade on the other arm. I suppose they would be effective in close-quarters, but I'm kind of surprised at how little similarity it has to the other kinds. Anyway, Phase II dark troopers were designed to look similar to actual stormtroopers, but larger and with armor that was darker in color (kind of surprising, considering the name). The Phase IIs were heavily armored, capable of flight with jetpacks built into them, and armed with assault cannons specifically designed for the droid to use. A small amount of Phase II troopers decimated a rebel base on the planet Talay, and it's a small wonder. Although not invulnerable, dark trooper armor was capable of taking heavy punishment from small-arms fire, and their assault cannons were capable of killing people in one shot. It is also evident that the dark troopers could be used to combat vehicles, since the assault cannon also possessed a rocket launcher. Needless to say, a single dark trooper would easily be enough to f*** up quite a lot of rebel scum.
The Phase III dark trooper is a fricking beast. Imagine Mr. T, but encased in POWER steel. The Phase III is nearly identical in appearance to the Phase II, but the main difference in the design is the high quantity of steroids used in the droid's construction and operation. To be more accurate, it's actually a POWER suit that a person climbs into, rather than a droid, with a jetpack and an assault cannon with four barrels. Forget the above comparisons; that's easily worth two Mr. Ts.
All right, that's enough. Chances are, anyone who's ever heard of Dark Forces already knows all that stuff I just recited. Why did I recite it? Well, the reason is to point out what has happened to dark troopers since Dark Forces game out in 1995. The thing is that they changed. They were brought back after the project's total destruction in Dark Forces with no explanation and with almost no resemblances.
If I recall correctly, the first incorrect appearance of Dark troopers is in Star Wars: Battlefront. While they do have the properly colored armor as well as jetpacks, the DTs in Battlefront don't really have any other similarities. They don't have the assault cannons or heavy armor they should have. Sure, I know it might be for gameplay purposes, but if they weren't going to do it right, then they shouldn't have at all. Although it's only loosely faithful to its original appearance (with them not only being substantially weaker but not even being droids), the dark trooper in Battlefront can be argued to be the most faithful to the original than any other portrayal.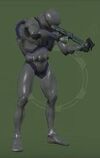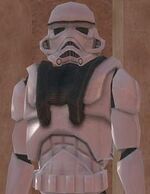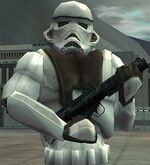 Now we move on to the dark troopers as seen in the infamous Star Wars: Galaxies. I'm actually not sure which one came first (Battlefront or Galaxies), but I suspect they happened around the same time. Anyway, in the days before the Combat Upgrade, I remember walking around Bestine (a city on Tatooine), and in addition to the regular patrols of stormtroopers (along with ridiculously out-of-place storm commandos), I see these weird-looking troopers walking around, with significantly different helmets, among other things. Since my in-game options were set to only show NPCs' names rather than what they were (I was unaware of this at the time), all I knew what that he was RAR-095 (or whatever). That left me to wonder what the hell they were. I often thought that they were actually wookies in special stormtrooper armor, but that still didn't make any damn sense.
It was not until some time later that I realized that RAR-095 was a Triumphant-class dark trooper. This didn't make any sense, so I looked them up at the only place which seemed to have a shred of information: Wookieepedia.
The Triumphant-class dark trooper was a variant of the dark trooper, a deadly next-generation stormtrooper/battle droid used by the Galactic Empire. In 1.5 ABY, a unit of Triumphant-class dark troopers escorted Darth Vader aboard his shuttle ST321 during the operations Molecular Clamp, Sieve, Green Light, and Take Down in the cities of Bestine on Tatooine, Coronet City on Corellia, and Theed on Naboo.
—Wookieepedia
So, in other words, they're dark troopers. That tells me a lot. As you can see from the images, these dark troopers bear no resemblance whatsoever to the ones seen in Dark Forces. They don't even have the right colored armor! This is just like in Battlefront, where the only reason they put the dark troopers in was so that there would be dark troopers, no matter how different they are. Since SWG is the only place where these types of dark troopers appear, there is no information anywhere as to what sort of combat role they have, what weaponry they used, where they came from, or why they were made. I've never really seen a dark trooper in SWG use the same weapon twice. I've seen them use anything from carbines to rifles, and even batons. As if Galaxies wasn't confusing enough, they have to introduce three types that look the exact same: the Triumphant-class, Exogen-class, and Glory-class. There is no information on any of these, either. According to the redlinks at Wookieepedia, there's also Oppressor 9, Oppressor 7, and Victory-class troopers as well.
That's not all, either. There's also Black hole dark troopers and dark novatroopers (pictured). The Black hole dark troopers are (as the name suggests) probably supposed to have something to do with the Shadow stormtroopers (nicknamed Black hole troopers), which, although they're kind of cool, also have no information pertaining to what they specialize in. The actual function of the Black Hole stormtroopers is already ambiguous and confusing enough, but this is just overkill. The dark novatroopers are probably supposed to be related somehow to the Novatroopers, but I haven't a clue what their role in relation to them is. I don't even know what the hell the regular novatroopers do. There's just as little information about the novatroopers as there is about these dark troopers.
Well, at least they're starting to get the color right. I guess the word dark in the phrase dark trooper wasn't enough for them to immediately catch on.
The last dark trooper "variant" in Star Wars: Galaxies is the "Inquisitorium dark trooper", which I guess is intended to be related to the Inquisitorius in some way. Again, it's never explained how; they're just there, sticking out like a sore thumb. Inquisitorium dark troopers are easily the stupidest of the SWG variants, due mostly in part to two factors. The first is that they carry double-bladed lightsabers, and the second is that their general appearance looks like it was modeled on what would happen if Darth Vader spent the last twenty years squatted in a chair in front of a television drinking beer and scarfing KFC. That's the dynamic duo of Lucasarts and SOE for you.
The last appearance of dark troopers that I am aware of (so far) is the ones seen in Empire at War: Forces of Corruption. When I first heard that not only would they be in the game, but also they would have the three phases, I thought for a while that Lucasarts had wised up and that would this time around, they would actually figure out what the f*** a dark trooper looked like before they put it in a game.
As it turned out, they got the dark troopers in FoC about 39% right. While the Phase I had basically the same weaponry that it was supposed to do, the appearance didn't really match what there was in Dark Forces. Not at all, in fact. It's like they just read a description of what they were instead of actually looking at them. Either that, or they went with the bogus illustration from the New Essential Guide to Droids, which appears to be identical. The thing isn't even properly colored, either.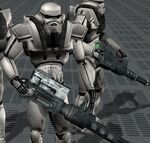 The Phase II in Forces of Corruption was, to my disgust and bewilderment, extremely similar to the ones from Galaxies. The things are even white. There are some minor differences in the helmet, among other things, but that's it. They don't even give them the assault cannons, but instead some weirdo-chaingun thing. Interestingly enough, the FoC appearance matches that of the New Essential Guide to Droids. What were they thinking? Is it too much to ask for some consistency?
While the Phase III in FoC is (out of the three) probably the most faithful to the originals, it isn't by much. They got the color half-right, by having it black instead of white, when it's supposed to be dark gray. Instead of the assault cannon, it has wrist-mounted lasers. And yet, the thing moves slower than molasses for no apparent reason. Upon closer inspection, it really doesn't resemble the original Phase III from Dark Forces that much except for the color.
What exactly is Lucasarts' problem with this? How is it so hard to get a screenshot from Dark Forces to see what dark troopers look like, rather than fumbling around in the dark without even caring if you find what you're looking for? So much for continuity. I guess it'll be answered in another canon source (such as Leeland Chee's blog) soon enough.
The Fanon Menace Review by Tesh and Ryluk
Edit
The Fanon Menace is a spoof off of the Star Wars universe. It was created by Seth Hoover and Joshua McGraw, better known as User: Tesh Vohore and User: Ryluk Shouja. The Fanon Menace started off as a small project for the two, a mere fun way to use their time. Over time, however, it blossomed into a full series. New episodes are being posted every Tuesday throughout the year, each about five to seven minutes long. It is planned to be aired from 2007 to 2013, carrying a full six seasons.
The Fanon Menace is loosely based off of Star Wars canon, only with its own twists, hence the name The Fanon Menace. It started off as a spoof of Episode I: The Phantom Menace. It follows the storyline of the main characters in the Star Wars Galaxy, but has a few extra minor characters thrown in for comic relief and twisting the already twisted plot. It tells the tale of two masterminds who are out to ruin the facts of canon and conform the fate of the galaxy to align with their devious plots and schemes. However, the masterminds have had to look out for the good guys following them, working to restore the facts of canon as best they can. The Jedi journeyed from planet to planet, accidentally messing up facts as they went, trying to catch the masterminds. Eventually, the adventure took them to a new galaxy, with new facts to destroy.
The Fanon Menace Season I followed (loosely) the storyline of Episodes I, II, and III. There were 30 episodes in the first season that developed the characters of Anakin Skywalker, Obi-Wan Kenobi, and Padmé Amidala. Throughout the first season, the hidden plans of the two masterminds were beginning to be seen. Padmé rose to power and influence, Anakin became a Jedi Master and was twisted by the dark side, and Obi-Wan Kenobi found his place as the old hermit in the desert.
On the lonely planet of Tatooine, Anakin Skywalker was found and taken in by Qui-Gon Jinn. Qui-Gon passed Anakin on to his apprentice, who taught Anakin the skills to fight the Sith. Anakin traveled throughout the galaxy with Obi-Wan until they discovered a plot to kill Padmé. From there, the two Jedi split up, one protected Padmé and the other searched for the killer. When they found out who was behind the plot, it broke out into war, scarring the galaxy. This paved the way for Anakin to rise to Master and became both Jedi and father. With Padmé pregnant, more responsibility fell on Anakin as the need to keep her alive arose. With this, the mastermind played with Anakin, until he fell into a trap and turned to the dark side of the force, leaving the galaxy in darkness.
Season I managed to gross over 8,000 views on YouTube during the 36 weeks that it was being uploaded. That number continued to climb, however, as time went on. The first episode remained the most viewed for the majority of the airing, until the tenth episode surpassed it gaining over 2,000 views. This was minor compared to some of the major videos uploaded onto YouTube, but was still a major marker in the start of the series as the creators knew they now had fans.
Currently, the creators are working on a smaller project, a mini-series, about two Stormtroopers on the Death Star entitled, The Fanon Menace: A Day in the Life of a Stormtrooper, and follows the two Stormtroopers when Han Solo, Luke Skywalker, the two droids, and Obi-Wan Kenobi come to rescue Leia. The mini-series is scheduled to air this summer, possibly near the end of June/beginning of July. Both creators have high hopes for this mini-series and also hope that it will spark a continuation of inter-season mini-series.
THE DARTH DISPATCH
Edit
Vol. 1 Is. 1 - Reporting Darthipedia News Across the Star Wars Splinter Wiki Community Since 2008 - Editor: Gonk
Darthipedia Community Terrified by Presence of Allegedly Female User
MAY 19 - Fear and anxiety paralyzed the historically male user population of Darthipedia, the Star Wars Humor Wiki in recent weeks as rumors spread of the first known female Darthipedian.
"I encourage everyone to remain calm," Darthipedia founder Gonk told reporters at a press conference today. "We consider the likelihood of wikiwide disaster to be really quite low."
The username of the Darthipedian in question has been withheld from the media in the interest of protecting her anonymity and preventing her talk page from being clogged with a sudden, abnormally huge influx of personal greetings.
"I think it's important to point out that we can't even be sure she's female," Gonk said. "We are talking about the Internet here."
Gonk also urged his fellow Darthipedians to continue contributing as though nothing had happened, and to treat the female Darthipedian with the same lack of respect that they would show to the most inarguably male Darthipedians, such as Madclaw.
"Diversity of viewpoints and experiences can only help our community grow stronger," Gonk said in a prepared statement beginning the press conference. "It's time we welcomed some change; our user base is heavily comprised of Caucasian males of a fairly limited age range."
"We also have too many Dutch users," Gonk added.
Some Darthipedians disagreed with Gonk's optimistic appraisal of the situation.
"I don't know how he can just stand there and tell us to be calm," StarNinja99 said in an interview following the press conference. "What if she starts reading our articles? I don't think we can take that kind of risk."
More dramatically, a group of anonymous Darthipedians have formed an organization called Darthipedia Isn't Kind, Sister (DIKS). Their initial manifesto proclaims that "if yuo BITCHAZ come in here an thikn wer gonna be al nurturin an sweet liek Opra or Bitchaz of Madisen County or whatver, yuo are WRONG!"
Gonk has denounced the manifesto as "the Internet equivalent of putting a crudely-drawn sign on your treehouse that says 'No Girls'."
"It's disgraceful. Some of my best friends are female," Gonk said, shortly before detailing a long list of typographical and stylistic problems with the manifesto.
I have an idea for a news read by myself as much as I can each week. This is what I have.
                == The Compleatly Unoficial Star Wars Fanon Newsletter News ==
                      === With Arav the Undersith at the News Desk ===

Hello everybody, I am Arav and your reading CUSWFNNews.
Top story this week
Edit
Another High Priest Election is underway. The Election stated on the 23/5/08 and voting has finished. The first nominations were for User Unit 8311 and Atarumaster. Unit has pulled out of the election race with 1 support vote by Troyb, 2 oppose votes by MPK and Squishy Vic and 1 neutral vote by Brandon Rhea. Unit was unsure if he was going to make a good High Priest but he was willing to try his hardest. He was nominated by Darth Tom. Atarumaster has also pulled out of the election race. When he pulled out he had no support, 1 oppose voted by him self

and 3 neutrals votes by MPK, Darth Tom and Troyb. He was nominated by My self. He pulled out because he was too caught up in Wookiepedia.

That is what I have so far. I will finish it later.--
Arav (talk) 02:10, 7 June 2008 (UTC)
Idea by Arav the Undersith
Edit
I have a really good idea. Each edition for Entertainment, there will be 5 polls to use. Some will be from user's pages (I will ask for permission) and some will be made up. I would really like to be in charge in choosing which polls to use but when I choose the top 5 I will run it through with the CUSWFN Leaders. So if this idea goes ahead, people can just list polls underneath a heading
Suggestions for Polls
Edit
Then they would list the polls they want and I would choose which ones should go in. If there are no suggestions then I will find and make some on my own. Then I would put a Grin smiley next to the poll I like then when I Grin 5 polls they will be the ones run through with the CUSWFN Leaders and the will tell me if any they don't want and they will choose the one/s to replace the poll/s that they don't want.
After an edition Newsletter and the polls, the polls that did not make it, will still be able to be picked for the next edition. So what do you think?--
Arav (talk) 00:30, 14 June 2008 (UTC)
Absolutely no way whatsoever on this planet. I will not disgrace CUSWFN by turning it into a social newsletter, with 'polls' and 'video cartoons' or 'mascots', an idea which I humored for some time. I've been working hard to turn out edition after edition, and I've had to convince many that CUSWFN isn't the retarded, spelling failure that it used to be, and many had a stereotypical view of it as a 12 year old immature newsletter. I've been working to make it a respectable newsletter, and this idea would screw up every bit of work I've done towards it. There's absolutely no way whatsoever. I haven't answered to some of your previous ideas, as they're just a 'no-way' idea, but this is just terrible, and one worthy of a rant. My page iChat What I've done 05:56, 14 June 2008 (UTC)
THE DARTH DISPATCH
Edit
Vol. 1 Is. 2 - Reporting Darthipedia News Across the Star Wars Splinter Wiki Community Since 2008 - Editor: Gonk
Darthipedia Laughs and Learns with The Gonk Crusades
JUNE 20 - This week saw the premiere of The Gonk Crusades, the official Darthipedia webcomic.
"The Gonk Crusades is an exciting and heartwarming tale of adversity, love, and big explosions," said Gonk in the official The Gonk Crusades press release. "You'll laugh, you'll cry, you'll wince. A triumph of the human spirit and the power droid central processor. Now, at last, the story can be told."
When pressed for details about the plot, characters, or really anything at all concrete about the webcomic, Gonk declined to respond.
User Comment
Edit
I would like to say thanks. Thanks to Tom to become head again, and Drewton, for also becoming CUSWFN head. You two (I hope) will keep this Newsletter alive, and continue to make it the best it can be.--Arav the Undersith (Contact Me) (My contributions) 05:36, 8 September 2008 (UTC)
Well, let me write an essay here, this is what I think of CUSWFN;
CUSWFN, a collaboratively made newsletter made by the community, and for the community! When I was in Halopedia, and saw there wikias newsletter, "The Oracle", possibilities ran wild in my mind, because I was still rather noobish back then, I was 11 or 12, but I saw power, and oppertunity up that road. So I asked the administrators for permission to do this, they accepted my proposal and asked me to test it out. So I did, had some help, put together some templates, and bada bing! The very first CUSWFN was out, and for the active community, it grasped there attention fast, and they largely accepted it. So I pursued it more and more, hoping, it to become bigger, and better, well it surpassed Halopedia's Orcale newsletter in number of articles, and some other things, we re did the templates, and had some nice things going.
Well then I became inactive, more, and more, and more, then one day Darth Tom came up to me, and said can I help out on CUSWFN. He had been talking to me and Rhea, both, and I went up to Rhea, and said, "Can you go on the IRC?", he did, I said flat out, "What do you think of Tom? He seems rather noobish, and I don't trust him with my CUSWFN". Rhea laughed, and we talked about giving him a chance, and never once, have I regreted giving him that chance, I hope that I can help out here, on a more technological way and programming, for creating new graphical updates on CUSWFN. I feel bad, and I envy the fact, that I have lost control of this, I hate that I made this, and I also have never seen much credit for it:(
But I must blame myself for that, if anyone who is on the CUSWFN, and has a myspace, please, add me, I am James The Bwit, in Florida, add me as a friend, and bug me to remind me of helping CUSWFN, then I will most definately help out. I can help out, but I just forget to log on here now. But I am really proud of how this has turned out, it is a great thing to see, and also know, I have left my legacy here..... TaderTalk 20:22, 19 September 2008 (UTC)
I have an idea. It is to do with the IRC. Every edition, I could have a discussion with any user, about any issue. SWFanon/Wikia related, or non wikia related. The heads can give me a issue (anything that is worth discussing), and I will talk with a user on the IRC that is on, or a user they give me to talk to. (I could just talk to JM or Tom, who I see most on the IRC). Then, I would save the chat on word, then put it on the CUSWFN. I would put in question form like this.
Administators
Edit
Conversation between Arav the Undersith (Arav) and Person (Nick name)
---
Arav:What is your view on the Administrators?
Person:They are doing great. I hope the inactive ones come back and try to help out.
Arav:Who do you think is doing the best and worst.
Person:Well, (insert opinion here).
---
The conversation would be in 13yr old standards. Swear words in bleep or cut out. It will be civil, the conversations should not have anything to be concidered Personal Attacks. What do you think?--Arav the Undersith (Contact Me) (My contributions) 10:01, 7 September 2008 (UTC)
The idea itself, initially, isn't too bad, but I'd like to see an example of such work before I make a judgement. Please compile a test one. -- (talk) (contributions) 18:46, 10 September 2008 (UTC)
DT, mabey next time we are on the IRC, I compile some questions on your views of SWFanon and where it is heading. --Arav the Undersith (Contact Me) (My contributions) 23:39, 20 September 2008 (UTC)
Wiki Spotlight
Edit
By Arav the Undersith Hey, its Arav here. Just letting you all know that Star Wars Fanon, has been added to the upcoming Wikia Spotlight list! If you new users dont know what the Wikia Spotlight is, I will explain. Wikia Spotlights are images that appear on each Wikia page that link to other Wikia sites. The spotlights are created by Wikia staff, and run for a couple of weeks. There are certain qualifications that a wiki must reach in order to become spotlighted. For example: The wiki must have a logo, 100 content pages and a welcome template for logged in users and IP addresses. This hopefully will attract more users to our website. Our wiki has been Spotlighted before, back when we were (I think) a dump. Now, our wiki has blossomed, and is one of the best wiki around! We have great administrators and a great community. Even a wiki staff said we are a great suggestion for the spotlight list. So you have heard it from me, BE WARNED! We (hopefully) will have lots more new users! --Arav the Undersith (Contact Me) (My contributions) 05:54, 8 September 2008 (UTC)
More information please. One paragraph's not enough. If you're going to write something, make it about the whole news, and not just one topic. At least four paragraphs, for the news, please. And the 'Hey, it's Arav here' isn't needed, as this isn't a blog. It will say 'Written by Blah blah blah' and so that's not needed. -- (talk) (contributions) 18:46, 10 September 2008 (UTC)
Characteristics: A Reference Guide/Crazy Rant Hybrid by MPK
Edit
Introduction
Edit
"yes, I AM glad they're dead."―Web Rider of Lucasforums.com
"I second that, and anyone who believes that they should have succeeded with few or no casualties on the part of them and their party members (predictable sacrifices on the part of Atton, Bastila, Carth, and any other potential sacrifice-ees notwithstanding) officially has no imagination."―TKA-001 of Lucasforums.com

Foremost among my many talents are my abilities to make lists and recall humongous loads of useless information. They say that when you put two birds together, you get a stone, and with that stone you can kill two more birds for food. Therefore, if you will accept the analogy, I will proceed to make a stone, using the two birds in my possession, namely the aforementioned list-making and information-recalling abilities.

This list which I have made should be a useful resource for you if any of the following statements describe you:

You are a fan of the game Knights of the Old Republic or its sequel, The Sith Lords.
Every few months you get a craving for KOTOR or TSL and feel that you must play it even though you've practically memorized both games and there hasn't even been any new mods released for it since your last playthrough.
You frequent internet forums where rabid fans of the KOTOR series dwell, finding yourself both drawn to the possibility of interesting discussions and simultaneously repulsed by the stupidity of everyone around you.
You frequent internet forums where rabid fans of the KOTOR series dwell, finding yourself drawn to the possibility of fascinating discussions about Revan, Darth Revan, the Exile, Lady Revan, and Lord Revan.
You are a repressed, mildly reclusive individual who writes Star Wars or KOTOR fan fiction.
You keep seeing people on forums talking shit related to KOTOR and feel an uncontrollable urge to prove them wrong. You are also a person who tries to create holes in brick walls with your teeth.
You are a repressed, socially awkward recluse and spend a significant amount of your free time writing KOTOR fan fiction and writing reviews for other peoples' fan fiction, never saying anything negative unless it involves something bad happening to characters you like.
You are a fan who seeks a better understanding of the KOTOR series and/or the "culture" that surrounds it.

You think anything negative said about something you like is automatically invalidated by the fact that it is negative.
You are a repressed, socially retarded dullard who writes KOTOR fan fiction, and you spend every waking moment of your free time slobbering all over yourself and your keyboard while writing hundreds of pages of angst and romance stories about Revan and Carth, or the Exile and Atton (or the Exile and Bao-dur, if you're really f***ed up). You think that both KOTOR games are better than any or all of the Star Wars movies and have no interest in Star Wars outside of KOTOR. You reject the canon gender of Revan (insisting that George Lucas is a misogynist) and ignore most of canon anyway, preferring to look at Star Wars through your personal fan fiction-dominated view of the timeline. In short, you are a resident of kotorfanmedia.com.
You have a few minutes to kill.

If you fit into one of the above characteristics, you probably fit into most of the others, but if you don't want to read all that shit, then you can condense it all down into "If you've played both KOTOR games and have a reasonable interest in them". That serves more than one purpose - it means that I don't have to waste two paragraphs telling you who Revan and the Exile are (once again we're back at the "two birds" analogy. Speaking of which, I've just finished reading Daphne du Maurier's The Birds this morning).

Throughout my pointless travels across the internet, I've encountered numerous people belonging to a group which I refer to as the "Dumbass Revan/Exile wankers". The name itself is rather self-explanatory: a group of people who drastically overrate virtually (and often literally) everything about the player characters from KOTOR and TSL.

I made this list mostly for those of you who frequent forums where KOTOR-related discussions occur. In places like that (such as Lucasforums.com, to name an example) you are bound to run across a number of members of this faction. If you feel that you must charge into verbal battle with these individuals, it is important to know your onions. But it is just as important, in fact, perhaps more so in this case, to know your enemy's onions as well. As such, I have compiled a list of common characteristics of these blighters.

This list could be used for many things. For example, if you need a way to know if any of your friends or neighbors are Revan wankers, this list will prove invaluable. Knowing your opponent's beliefs in an argument is also a good way to undermine him or her as you argue, allowing you to snatch a clear victory (even though both of you will still be retarded). This list is probably most suitable for the KOTOR debaters, but whatever your stance is on KOTOR, if you have any interest in the series at all, this handy reference guide can be quite an asset.

I imagine that not everyone who exhibits one or two of these characteristics is a Dumbass Revan/Exile Wanker, but take it from me, I've been plenty of places on the internet, and I have encountered nobody (that's right, nobody) who fit into more than one but less than 89% of these mannerisms. If I find anyone who exhibits any of these conditions without also meeting most of the others, I'll be absolutely amazed.

As you may know by now, since everything ever said is someone's opinion, I don't put "in my humble opinion" in front of everything I say. However, in this case, none of it is my opinion, all of it is fact and if you disagree with me, you are wrong and deserve to be punched.

Also, I must extend my sincere thanks to Sikon and Lord Patrick of Wookieepedia for inspiring me to write this article.

Characteristics of Dumbass Revan wankers:

Edit

1. Believing that Revan is the [or close to the] most powerful Sith Lord of all time and/or his/her era, despite an immense load of evidence to the contrary; inflating statements from Kreia about "Revan being power" and so on as justification.

2. Believing that Revan never really fell or was corrupted by the dark side, despite the fact that this is completely incompatible with established, material facts concerning the fundamental nature of how the Force works. Also believing that any of Revan's actions and/or his/her fall/turn were partially, completely, ultimately, penultimately, antepenultimately, directly, and/or indirectly the fault and/or responsibility of the evil meanie cowardly manipulating Jedi Council / manipulating shadowy mysterious menacing True Sith / Totally Unstoppable Mandalorians / Corrupt Stagnant Republic / Corrupt Republic Senate / Irrelevent Fanon Theory / Malak Stealing His Lunch Money and/or that he/she was moral in his/her actions, which include deliberately killing tens or hundreds of thousands of his/her own soldiers and deliberately allowing the Mandalorians to slaughter millions of citizens in order to use the massacres to rally his/her own troops and corrupt his/her Jedi to the dark side, and murdering political officials, not to mention starting another completely unnecessary war against the Republic after ending the Mandalorian Wars.

3. Believing that the Jedi Council's reprogramming of Revan's mind was evil, immoral, amoral, and/or completely or in any way unjustifiable, ignoring the facts that:

Α) Revan was the Dark Lord/Lady of the Sith at the time and therefore their worst [and most dangerous] enemy, so they had no reason to let him/her off easy
Β) Revan would have done the exact same thing if he/she were in their position and would have no qualms about it
Γ) It was the only way they could ever have any hope of finding the Star Forge and ending the war that Revan him/herself started in the first place, therefore meaning that they would be morons not to do what they did
Ε) If the Jedi Council really was as short-sighted, self-centered, cowardly, corrupt, malevolent, and/or bent on screwing Revan over as the dumbass wankers think they were, then they would have just killed him/her either when they had him/her imprisoned after his/her capture, or after he/she helped them destroy the Star Forge

4. Believing that Malak was the true evil one, even though both games show him as the more innocent one who was corrupted after Revan, such as in KOTOR 1 when Revan and Malak both admit that the former is the one who led Malak down the dark path.

5. Believing that Darth Malak was short-sighted, cowardly, and/or idiotic simply because:

Ζ) He ordered the destruction of Telos by the Sith fleet
Θ) He ordered the destruction of Taris by the Sith fleet
Ι) When he tried to sieze the title of Dark Lord of the Sith from Revan, he didn't challenge him/her directly, deciding instead to blast his/her ship apart while he/she was distracted

...even though:

I) Malak had Telos destroyed in order to test the loyalty of one of his highest-ranking subordinates, which is exactly the sort of thing Revan would do
II) Malak had Taris destroyed because he didn't want so spend the next thirty years searching a city the size of a planet for one Jedi (Bastila) when he could be doing good elsewhere; the target literally could have been anywhere. Destroying the planet's surface was the only reasonable way to neutralize the Jedi. Again, Revan would probably have done the same thing. Malak didn't destroy Taris because he was an idiot; he did it because it was the only practical thing to do.
III) The last time they fought, Malak lost his jaw, which understandably might make him reluctant to risk himself in a duel against his master again. Besides that, the method of attacking Revan's ship when an ideal opportunity presented itself is (again) the exact same thing Revan would do if he/she were in Malak's position.

6. Believing that Revan is significantly stronger than any and/or all of the Jedi Masters or Sith Lords seen in KOTOR 1 and/or TSL, despite a total and complete lack of evidence. Also, believing that he/she wouldn't be killed instantly if he/she ever tried to fight Darth Nihilus.

7. Believing that leading his/her group of Jedi dissidents to the Mandalorian War, killing an uncountable number of his/her own troops, civilians, and Mandalorians, corrupting his/her Jedi followers to the dark side, and starting the Jedi Civil War was less evil than the Jedi Council refusing to participate in the Mandalorian Wars and believing that they had little or no good reason for refusing, despite the facts that:

Κ) Even if the Council could be held responsible for the civilians that were killed before the Jedi joined the war (which is inane because they didn't do anything), there's no possible way that they could be responsible for as many deaths as Revan, since it is clearly stated in KOTOR 1 that leaving planets defenseless against the Mandalorians in order to use the subsequent genocide for propaganda purposes was a basic strategy in Revan's mind and as revealed by Kreia in TSL, Revan used the entire war as a tool to corrupt his/her men (particularly the Jedi) to the dark side by staging civilian massacres and other atrocities in order to influence his/her subordinates, meaning in conclusion that the Council's supposed body count could never even hope to come close to approaching that of Revan

Λ) The reasons that the Council didn't want to join the war are not only plainly stated in KOTOR 1, but also shoved down the player's throat, in the player's ears, and up the player's arse in TSL

8. Considering it an established, obvious, and/or indisputable fact that Revan was a strategic and/or tactical genius possessing capabilities approaching, close to, rivaling, and/or superior to Grand Admiral Thrawn of the Galactic Empire despite a total and complete lack of any evidence whatsoever of this idea, by inflating a handful of statements made by several characters in KOTOR 1 or TSL which are either too vague to draw any conclusions from (an example being the Jedi Dorak on Dantooine) or are from openly biased sources (Canderous Ordo and Kreia being the most prominent). By extension, considering it an established, obvious, and/or indisputable fact that the Republic could not and/or would not have won the Mandalorian Wars if not for Revan.

9. Believing that Revan was in his/her early or mid twenties when the events of KOTOR 1 take place, even though this would mean he/she would be a teen-ager at the oldest during the Mandalorian Wars.

10. Considering it within the realm of possibility that if Revan were a female, she may have had a romantic relationship with Carth Onasi at any point in her life.

11. Believing that if Revan was male (canon gender), then he must have married and/or had children with Bastila, rules of the Jedi Order, commitments to the Jedi Order, and possibilities of their bond and/or relationship being one-way or temporary be damned.

12. Believing that Revan may have had a romantic relationship with Malak and/or the Jedi Exile at any point in his/her life.

13. Believing that Revan is in any way related to any characters in the movies.

14. Believing that Revan began the Jedi Civil War entirely out of necessity and that there was truly little and/or no alternative to it.

15. Holding to the inane belief that the Jedi Council are the ones who split the Jedi Order, rather than Revan, even though Revan is the one who led an open rebellion against them, not the other way around. Also believing that they [the Council] contributed to the split, which is also ridiculous because nobody made Revan do what he/she did except him/herself. By extension, believing that the Jedi Council (and/or Vrook in particular) is biased, hateful, and/or spiteful toward Revan simply because they were cautious about dealing with a traitor and sworn enemy who for all they know could have already regained his/her memories and therefore be lying to and preparing to turn on them at any time for who-the-hell-knows what reason. By further extension, hating Vrook just because he's distrustful of and "speeks meanly" to Revan, no matter how legitimate his reasons for doing so are.

16. Insisting or believing that Revan's gender is unknown or female, or that his/her alignment is unknown.

17. Believing that Revan should not have a canonical gender, alignment, programmed name, or appearance by regurgitating bullshit arguments like "it's an insult to the player base", "they have no right to tell us what OUR characters are", "those big meanies at Lucasarts are in on an evil sexism conspiracy", et cetera, even though canonical information regarding Revan puts no restrictions whatsoever on their self-insertion fantasy fulfilment fan fiction, especially since they disregard most canon anyway and LFL has already made a mockery of all KOTOR-related canon information by not stating anything other than his gender and alignment.

18. Using statements from Kreia to support their arguments, but when other people use statements from Kreia when arguing against them, trying to invalidate the opponent with the excuse that "Kreia is a liar", even though they take everything Kreia says about Revan, the Exile, and the Jedi Order as fact. Also refraining from considering whether or not Kreia had a reason for lying when saying that she lied about something.

19. Using Zez-Kai Ell's musings about the possible flaws of the Jedi Order to support their arguments (and/or believing them to be fact), but ignoring everything he says elsewhere about the Jedi Council's reasons for going into hiding.

Characteristics of Dumbass Exile wankers:

Edit

1. Considering it an indisputable and/or nearly indisputable fact that the Exile joined the Mandalorian Wars for no reason other than to protect the innocent. Also, believing that the Jedi who stayed (often the Council in particular) were not and/or did not deserve to be "true" Jedi, even though this ignores the perfectly reasonable objections they had to the war.

2. Considering it an indisputable and/or nearly indisputable fact that the Jedi Exile did not fall to the dark side during the Mandalorian Wars, for no reason other than because that was what Atris believed due to a bias against Atris and/or the Jedi Council in general.

3. Believing that the Jedi Council's banishment of the Jedi Exile after the Mandalorian Wars was wrong despite the facts that...

Α) Their official reason, which was ignoring her/his leaders' reasoning and orders to join the war was perfectly legitimate, since Revan commited quite a fair deal of atrocities and turned all of his/her other surviving followers to the dark side, which spawned another war. Some even suspected the Exile of being a spy.
Β) Even if their official reason was in no way legitimate, then their true reason (being a wound in the Force who may lead to another split within the Jedi Order due to her/his automatic Force bonding ability) definitely was at the very least a reasonable precaution

4. Believing that the Jedi Council (and/or Vrook in particular) is biased, hateful, and/or spiteful toward the Exile simply because they were very cautious when dealing with an extremely dangerous individual who could and actually did lead the Sith to them which resulted in their destruction. By extension, hating Vrook just because he's distrustful of the Exile and "speeks meanly" to her/him, ignoring his fairly legitimate reasons for doing so; and/or thinking Vrook hates the Exile based on the recording of the conversation regarding the Exile between Vrook and Vandar in TSL even though it is entirely possible that everything he said was correct at the time, since there is no evidence against it. Also ignoring the fact that if the Jedi Council really was as short-sighted, self-centered, cowardly, corrupt, malevolent, and/or bent on screwing the Exile over as the dumbass wankers think they were, then they would have just killed her/him after her/his trial on Coruscant; also using Vrook's in-game alignment as a way to "prove" that he's a jerk (or whatever).

5. Believing that the Jedi Council had no right or good reason to attempt to strip the Force from the Exile on Dantooine, even though their reasons for doing so are not only completely logical, but also screamed in the player's face throughout the entire conversation with them. By extension, believing that they shouldn't have because the Exile was the only Force user who could stop Nihilus, even though not only did they not know anything about Nihilus, but also even the Exile her/himself didn't know until the duel aboard the Ravager.

6. Believing that Atris was corrupt, a false Jedi, and/or a Dark Jedi even as far back as the end of the Mandalorian Wars for no reason other than the fact that she gives the Exile a few "meen wurds" at her/his trial. For that matter, believing that Atris became and/or believed herself to be a Sith and/or took the title of Darth Traya at any point in her life, using inane arguments that usually include references to cut content and/or taking lines from Kreia and/or Atris herself out of context.

7. Believing that Atris arranged for the Conclave on Katarr specifically so that Darth Nihilus would kill all the Jedi who attended it, despite a total and complete lack of evidence for this ridiculous presumption other than their own bias, and the fact that it is specifically stated that she intended to draw Nihilus there so the Jedi could kill him, not the other way around.

8. Believing that the Jedi Council members were cowards, manipulators, immoral, and/or amoral because they went into hiding after their entire order was all but annihilated; Believing that if they revealed themselves, they would not be wiped out by Darth Nihilus; Also, believing that they did not believe or know this. Alternatively, believing that the Jedi Council members would have stayed overt, tried to help the Republic, and ultimately died in the process if they were true Jedi, even though by the same logic, Yoda, Obi-Wan, and all the other Jedi who survived Order 66 should have thrown themselves on Sidious' blade; Believing that the the Jedi Council members revealing themselves would allow them to make any significant difference before they were killed by the Sith, even though being killed by the Sith is exactly what happened to them when they finally did gather again. Also, believing that they were hiding for no good reason, even though their reasons are repeated and stressed over and over during the conversations with all three of them.

9. Believing in the bullshit theory that Darth Nihilus is actually a rejected splinter of the Exile's soul, the dark side within her/him that was forced out and possessed another Jedi/person's body/corpse, or believing in any variant of said bullshit theory, which is formed by taking random statements from [automatically invalid] cut and uncut content alike and stringing them together with random dotted lines, culminating in a ridiculous fanon conclusion. By extension, believing this inane [and needless to say, stupid] theory to be an established, canonical, indisputable, and/or nearly indisputable fact by claiming that a person who was involved in the creation of the game originally intended for it to be that way, even though what did happen is infinitely more important in the endeavor than what didn't happen, and also despite the fact that the identity or position of said developer is irrelevant.

10. Insisting or believing that the Exile's gender is unknown or male, or that her/his alignment is unknown.

11. Believing that the Exile had a romantic relationship with Revan and/or Malak at any point in her/his life.

12. Believing that the Exile is in any way related to any characters in the movies.

13. Believing that the Exile should not have a canonical gender, alignment, name, or appearance by regurgitating bullshit arguments like "it's an insult to the player base", "they have no right to tell us what OUR characters are", "those big meanies at Lucasarts are in on an evil sexism conspiracy", et cetera, even though canonical information regarding the Exile puts no restrictions whatsoever on their self-insertion fantasy fulfilment fan fiction, especially since they disregard most canon anyway and LFL has already made a mockery of all KOTOR-related canon information by not stating anything other than her gender and alignment.

14. Using statements from Kreia to support their arguments, but when other people use statements from Kreia when arguing against them, trying to invalidate the opponent with the excuse that "Kreia is a liar", even though they take everything Kreia says about the Exile, Revan, and the Jedi Order as fact. Also refraining from considering whether or not Kreia had a reason for lying when saying that she lied about something.

15. Believing that the Exile ceased to be a wound in the Force at any point during or after the events of TSL, despite a total and complete lack of evidence.

16. Using Zez-Kai Ell's musings about the possible flaws of the Jedi Order to support their arguments (and/or believing them to be fact), but ignoring everything he says elsewhere about the Jedi Council's reasons for going into hiding.

17. Believing in the ridiculous fanon theory that Kreia is or was the Handmaiden's mother, or believing any variant of said theory.

18. Believing that the Exile had a romantic relationship with Kavar at any point in her/his life.

Matthew Stover once said that a candle can hold back the darkness. If that's true, then a cup of water can put out a forest fire and bring the darkness back, so it's better to have water than candles when you're in a desert, because you can't drink candles. That's why I compiled this list: so you have something to drink when you're in the "desert", if you will, of a KOTOR-related forum.

It is hard to say for sure what single thing, if any single thing, caused so many fans to start worshiping Revan and the Exile as if they're somehow more significant and important than the main heroes/villains of all the other parts of the Star Wars timeline. Some people say that KOTOR I coloured Revan as a flawed, interesting character, and Chris Avellone is the one who tried to make Revan into Kyle Katarn[1] when he wrote KOTOR 2. This idea is plausible, but while his writing certainly did contribute to the defilement of Revan's already poorly-maintained character, I think that, more than anything, it was caused simply by the fact that Revan and the Exile are the player characters. Think about it - you are the player character. Do you want to think of yourself as being responsible for a countless number of genocidal incidents? Of course not. Nobody likes to think of themselves that way. Therefore, since most of the player base thinks of the player character as themselves (this is known as self-insertion), they believe that anything spoken against Revan or the Exile is something spoken against them, and they therefore instinctively feel that they have to defend themselves. In reality, they defend the characters, and are standing on very steep ground.

Steep? More like a Katarn-damned cliff. In the end, the Revan/Exile wankers are inexhaustible in numbers; as long as there are people interested in KOTOR, there will be wankers.

I have to say, I find myself torn by the recent announcement that Bioware is making an MMORPG, The Old Republic, instead of KOTOR 3. On one hand, I wanted the plotline of Revan, the Exile, and the True Sith to be resolved more directly, but on the other hand, by stating that SPOILER ALERT SPOILER ALERT BWOO BWOO BWAA Revan never returned from the Unknown Regions and the True Sith invaded the galaxy 300 years later (which means Revan did not succeed in stopping them), they're forcing the wanker crowd to accept the fact that at some point, their favorite self-insertion characters die. And why shouldn't they?

To be honest, I don't see how TOR ruins KOTOR's story that much at all. I don't see what people are getting so grouchy about. Personally, I think that no matter how this turned out, the player base was going to be disappointed with how Revan's story ended, because even Lucasarts isn't stupid enough to have the True Sith plotline end up like the sort of shit that the fan fic authors write all the time; they're not going to have Revan and the others make some ridiculous land stand like the Battle of Thermopylae, where they die but manage to delay the Sith invasion; nor will they have Revan and the Exile kill off the Sith leadership before returning victorious or vanishing once again.

Hopefully, the outcome of Revan's mission against the True Sith will be detailed in an indisputable, non-bullshittable EU source - a novel, for instance. In the end, it won't cause anything bad. I don't know why people whined so much about Revan and the Exile's genders and alignments being canonized - it's not like they were putting reservations on their fan fiction (they think it does, which is the only reason they ever gave a flying dewback's arse).

The Old Republic doesn't take anything away from the KOTOR series, because if it does, then so does all of the literature that takes place after TSL. We already know that the Sith return later with the Brotherhood of Darkness. Does that cheapen KOTOR?

We already know that the Jedi are destroyed and the Sith rule the galaxy thousands of years later when the First Galactic Empire rises. Does that cheapen KOTOR or the literature concerning the New Sith Wars?

By the same logic, KOTOR itself cheapens its predecessors, and those in turn cheapen their predecessors as well; In KOTOR I, Revan's victory over the Sith in the Jedi Civil War is cheapened by destruction of the Jedi Order in the First Jedi Purge afterward. Exar Kun's defeat by the Jedi in the Great Sith War is cheapened by the Sith's return when Darth Revan arises. The victory of the Jedi and Republic over the Sith in the Great Hyperspace War is cheapened when Exar Kun becomes the Dark Lord of the Sith and continues the cycle. The Jedi victory over the Dark Jedi in the Hundred-Year Darkness is cheapened by the arrival of the Sith in the Great Hyperspace War, the First Great Schism is cheapened when Xendor and his followers are succeeded by the Dark Jedi of Ajunta Pall when the Hundred-Year Darkness begins, and the Force Wars are cheapened in turn when the followers of Bogan are succeeded by Xendor and his followers centuries later.

Why are we giving special consideration to the KOTOR series? Why is Revan any more important than Naga Sadow, Exar Kun, Ulic Qel-Droma, Nomi Sunrider (uh-oh, lawsuit), Lord Hoth, Yoda, Obi-Wan Kenobi, Anakin Skywalker, Count Dooku, Darth Sidious, Darth Vader, Galen Marek, Luke Skywalker, Leia Organa, Kyle Katarn, Wilhuff Tarkin, Grand Admiral Zaarin, Ysanne Isard, Grand Admiral Thrawn, Jerec, Desann, and all the rest? He isn't better than Luke Skywalker (or whoever). He serves as Luke Skywalker's equivalent at his location on the timeline. And even Luke died at some point. So should Revan. The people who want him to go out in some other way have forgotten what this is; Sparta is what this is. Not Revan's Sparta; it's Everyone's Sparta. Everyone else in canon shared Sparta with Revan. Revan should share Sparta with them, in turn.




Empirical: An Essay on one particular Myth pertaining to the plot of Star Wars: The Force UnleashedEdit

The Executor Incident
Conflict
Date
Place
Outcome

Supposed death of Starkiller

Combatants
Strength
Casualties

Starkiller injured and supposedly killed
Darth Vader's place forgotten

One Executor viewport shattered

I know it may seem like I'm beating a dead horse by writing another essay about Star Wars: The Force Unleashed, since the game itself was released half a year ago. However, it had since then come to my attention that there are several major misinterpretations about the plot of the game, and have therefore taken it upon myself to address these errors directly, personally, and most importantly, in my trademark humourous manner.

Since it's been half a year since The Force was Unleashed (hurf durf, get it? That's like what the game is called, hurf durf), there's no such thing as a spoiler for TFU anymore. You already know the drill. The main character is a Dark Jedi, who as far as I know is never actually named in the game by anything other than his code name, Starkiller, which, while reasonable on its own, actually looks slightly cheapened when you consider the fact that elsewhere in canon, we've got a friend of Luke Skywalker, a starship, a superweapon that was destroyed but not actually destroyed because it was something else, a Mandalorian who used to be named that but isn't anymore, a Rodian, a rebel scum, and some idiot from Marvel Star Wars who nobody cares about.

In any case, Starkiller's real name is Galen Marek. 19 BBY the events of Episode III, Darth Vader paid a visit to Kashyyyk, where he found Galen, and took him to train as a secret apprentice, which he hopes to use to overthrow the Emperor once he's grown up. Two years before the Battle of Yavin, however, Palpatine discovers them and Vader is forced to fake Starkiller's death. After the apprentice wakes up, Vader tells him to find a bunch of enemies of the Empire and convince them to form an alliance against Palpatine, which they will use as a cover to move against the Emperor. After he does, this, Vader says "psych!" and captures the rebel leaders, revealing that Starkiller's mission was just a ruse to round up the Emperor's biggest enemies. Vader takes the rebel leaders to the work-in-progress Death Star, but Starkiller follows them there. Due to his efforts, the rebels escape, but Starkiller himself is killed by the Emperor.

Got all that? I hope so, because I hate writing exposition.

The misconception that I write this in order to address appears to be the growing belief that Palpatine and Vader were in cahoots in regards to Galen practically from day one, and that the plan never changed; that from the beginning, he was supposed to round up a bunch of potential rebel leaders for them. While it is true that some of the source material appears to support this notion, it should not be considered fact.

The chief reason for this is personified by a cutscene in the game which I term "The Executor Incident". After killing the Jedi Master Shakk Ti, Galen returns to the Star Dreadnaught Executor, which was being used as the headquarters of Vader and himself before its completion. He notices as he flies in that the ship is surrounded by a fleet of Star Destroyers that weren't there when he left, but he arrives at the bridge, where Vader awaits, without incident. Since he doesn't ask Vader what the armada is doing there, it's probably safe to say that he simply assumed that they were the Imperial cleaning crew or something. However, Vader tells him that the Star Destroyers are not a cleaning crew of any sort, but rather the symbolically-named Emperor's fleet.

Galen takes this as an indication that Vader lured Palpatine into a trap or something, but his delusions of grandeur are interrupted when the door opens behind him, revealing none other than the Galactic Emperor himself. Finding this to be alarming for some reason, Galen turns around, alarmed, at which point he notices a peculiar red object protruding from his gut. This turns out to be a lightsaber blade. There is also evidence to suggest that Vader placed the blade there himself. Since it is common knowledge that lightsaber blades hurt, it probably doesn't need to be said that Galen hits the floor soon after. Meanwhile, Palpatine walks toward them across the Executor's bridge, at which point the viewer notices that this version of the bridge is actually much larger and cooler-looking than the one from the movies (or it would be, if it was finished and there weren't jets of steam coming out of the walls).

Since Vader essentially was caught in the act of breaking the first rule of the club, Club President Palpatine is understandably pretty upset, so he tells Vader to knock it off and kill Galen. After a few tense seconds of indecision, Vader grabs Galen with the force, slams him face-first into two of the bridge's steel bulkheads, and then crashes him through the window in the bridge, where he apparently meets his end. Throughout this spectacle, Palpatine can be heard laughing hysterically and cheering Vader on, sort of like a young Darth Malak on a sugar rush or something. Fortunately, an emergency airlock panel comes down as soon as the window is broken, which is lucky for Vader because he would look pretty stupid if he had caused all three of them to get sucked out into space. As soon as Galen is gone, however, Palpatine stops slapping his knees and gagging on his own saliva and glares at Vader for a moment, as if to say "thanks for spoiling my fun, asshat" before he oozes out of the bridge through the way he came in, still chuckling to himself.

The reason this is relevant to whether Palpatine and Vader were always in cahoots about Galen ought to be pretty obvious. What they propose is that Palpatine knew about Galen and that everything Vader did with him after his abduction was under either his orders or his supervision. The problem is that if this was true, then there would be no point in this entire scene existing in the first place.

I'm not even looking at the effects this theory has on the story's overall coolness factor, either. I could argue that TFU was supposed to be about Vader getting some boldness points and becoming more badass, and that that badassness is hurt by the "Palpy-was-always-in-charge" theory, which proposes that it took Vader twenty years of being the Emperor's bitch before he decided that he wanted to kill him. Nor am I arguing that it makes Palpatine look somewhat incompetent. Some have argued that TFU makes him look incompetent anyway, since his whole plan backfires, but if everything Galen did from the beginning was ultimately because of the Emperor, it makes Palpy look even more sloppy than some already claim he is. I personally think that he looks stupid only if one believes that he was always in charge throughout TFU. Either way, one has to admit that no matter how you look at it, Palpy in TFU beats the hell out of his batshit-too-crazy-stupid-to-live self in the Dark Empire trilogy. Of course, the entire above paragraph is neither here nor there.

Before I explain, I think I need to place the fact that transparisteel is actually just about as strong as durasteel, the concept that Galen somehow knew a technique that allowed him to survive lightsaber impalement (too bad Qui-Gon didn't know that trick), and the whole vacuum of space thing aside. Normally I support the Rule of Cool, which states that awesomeness suspends disbelief, and although I think they took the rule way too far when writing this scene, I also think it needs to be said that the circumstances of Galen's death being faked (no, he wasn't brought back to life) ultimately don't have any bearing on the overall plot.

Galen was willing to obey Vader's orders essentially without question. If Vader had told him to begin gathering rebel leaders, he would have done it, no matter when he was told to do it. The simple question is that if Palpatine really had Vader and Galen under his thumb the whole time, then why did the Executor Incident happen? What purpose did it serve to risk killing Galen? According to this theory, both Vader and Palpatine were in on the whole Galen thing, so there was no point in it. There was no point in putting it on as an act, because it didn't serve to reduce Galen's suspicions, because he didn't have any suspicions in the first place. Simply put, if the theory was true, then Palpatine and Vader decided to risk killing Galen, bank on the assumption that if they managed to stab and throw the Dark Jedi into space without killing him, he wouldn't want revenge, and most of all, for no reason.

Vader took Galen because he genuinely wanted the kid to help him kill Palpatine. Palpatine found them out, so Vader faked his death (somehow) and later told Palpatine that he could be used to round up some of Palpatine's opposition in the Senate. The Emperor gave him a green light, and the rest is history. If Palpatine knew about Galen all along, then the entire Executor Incident makes no sense.

Neutral Rain: An Essay on Morality in Knights of the Old Republic II - The Sith Lords, and how it relates to Star Wars in General

Edit

This essay was written as part of a venting process that I went through after wasting an hour or so in a pointless argument with some damn idiot on some stupid forum somewhere. I submitted it to the SWFanon Newsletter on May 19, 2009 to help fill out their "Star Wars Media" section. And yes, I do write too much shit about the KOTOR series.

This document contains what I hope to be some insight, providing a glimpse into what went into the story of Star Wars: Knights of the Old Republic II - The Sith Lords, what it produced, and what it means in regards to the rest of the Star Wars mythos, as well as its effects on the Star Wars fandom as a whole. It also includes a bonus mini-essay about Karen Traviss and a crazy "what-if" theory I made up while writing it.

This essay can be compared to one of the Rakatan Star Maps seen in the first KOTOR game. It doesn't really make complete sense, but it could be useful if you look at it in the right way. That's because I wrote it mostly to vent, not to inform. It doesn't say precisely what it argues against, it lacks a proper beginning and end, and it's incomplete in more ways than one. I never finished it because of how disgusted I was with myself after getting this far.

In any case, I hope the reader finds a nugget of interesting information somewhere in here. All I know is that I wrote a bunch of letters that happened to form into words, and then into coherent sentences. You decide what to make of them.

Neutral Rain: An Essay on Morality in Knights of the Old Republic II - The Sith Lords, and how it relates to Star Wars in General

Edit

This essay was written as part of a venting process that I went through after wasting an hour or so in a pointless argument with some damn idiot on some stupid forum somewhere. I submitted it to the SWFanon Newsletter on May 19, 2009 to help fill out their "Star Wars Media" section. And yes, I do write too much shit about the KOTOR series.

This document contains what I hope to be some insight, providing a glimpse into what went into the story of Star Wars: Knights of the Old Republic II - The Sith Lords, what it produced, and what it means in regards to the rest of the Star Wars mythos, as well as its effects on the Star Wars fandom as a whole. It also includes a bonus mini-essay about Karen Traviss and a crazy "what-if" theory I made up while writing it.

This essay can be compared to one of the Rakatan Star Maps seen in the first KOTOR game. It doesn't really make complete sense, but it could be useful if you look at it in the right way. That's because I wrote it mostly to vent, not to inform. It doesn't say precisely what it argues against, it lacks a proper beginning and end, and it's incomplete in more ways than one. I never finished it because of how disgusted I was with myself after getting this far.

In any case, I hope the reader finds a nugget of interesting information somewhere in here. All I know is that I wrote a bunch of letters that happened to form into words, and then into coherent sentences. You decide what to make of them.

Neutral Rain

Edit

"In part, Kreia was supposed to be aspects of Ravel that I didn't have time for in Planescape: Torment. Also, as much as the nature of the Force frustrated me in some respects, Kreia was the personification of that frustration – the fact that some arbitrary force would feel the need to "correct' the human species at times with mass slaughter in Episodes 1 through 3, and the hypocrisy of the Jedi that took place in IV and V. I've never really forgiven Ben Kenobi for his lies in Episodes IV and V, and Kreia definitely echoes that. Her one redeeming feature is that for a (former) Sith Lord, she loves the player and what he/she represents. She sees in the player a chance to turn away from predestination and destroy that which binds all things, giving the galaxy back its freedom."―Chris Avellone, September 24, 2007

So there you have it. That's the big revelation of Star Wars: Knights of the Old Republic II - The Sith Lords: Its creator, the architect of this vaunted "masterpiece" of the Expanded Universe... Is full of shit when it comes to Star Wars. Kreia lying to the player and manipulating the party members countless times for her own purposes with no regrets in TSL being comparable to Obi-Wan Kenobi in the Original Trilogy saying that Anakin was killed by Vader? I must say, though, it's quite a new one on me, for a Star Wars revisionist to think that "Jedi hypocrisy" is so apparent in the Original Trilogy.

Reading the above passage from an old interview with Chris Avellone, who is credited with being responsible for KOTOR II, sort of reminded me that he's not the only person with a screwed-up view of Star Wars. There's plenty of people floating around that don't like the black and white morality of the franchise and try to put a more "realistic" spin on it, a process which usually includes putting a spin on Star Wars that turns it into a crapsack world.

Attempting to do so simply doesn't work.

You see, one of the main reasons that Star Wars became so popular in the first place is the fact that it is the perfect escapist fantasy: good versus evil, with none of that "grim and gritty, grey morality" shit.

Star Wars has stuck to this since the beginning. It might not look like it has, but it has. It's always been the light, the Jedi, the Galactic Republic, the Rebel Alliance, the New Republic, the New Jedi Order and the Galactic Alliance against the dark, the Exiles, the Sith Empire, the Mandalorians, the Sith Triumvirate, the True Sith, the Brotherhood of Darkness, the Trade Federation, the Confederacy, the First Galactic Empire, the Order of the Sith Lords, the Imperial Remnant, the Yuuzhan Vong, the Confederation, Lumiya's Sith, and the One Sith.

People have tried to change this, but Chris Avellone was probably the first one to take a stab at it in canon. He introduced Kreia, with her "Insidious God Force" theory, and her "Revan never fell" bullshit theory. Chris did what he could to destroy the fundamental bedrock that Star Wars was built on. And he failed.

Star Wars is black and white. It always was. The only difference between now and then is that the fanbase now has people like Chris, who never realized it. Chris never introduced a "new way of looking at Star Wars". He didn't "expose the true nature of the Force". He only introduced a character who thinks so.

Confused? I'll give you a run-down. Check Wookieepedia if you're still confused. Kreia says that everything Revan did is justified, and that he never really fell. Kreia says that the Force has a will and that it's some sort of malevolent god that controls everything. Kreia says that the Jedi Order is completely wrong. Kreia says that the Force controls people and plays an endless game of light against dark while the galaxy burns.

Needless to say, Kreia is full of shit.

Black and white morality goes from the beginning of Star Wars continuity to the end. No part of Star Wars is immune to it. Revan was a genocidal extremist. Darth Traya was extremist, malevolent, and dishonest, not to mention probably insane. There's nothing about Traya that isn't Sith. And while one might think I shouldn't need to say this, the Jedi are the f****ING GOOD GUYS.

All of the "moral relativism" bullshit that Avellone supposedly introduced in TSL is only the in-universe opinion of an amoral, paranoid control freak. Nothing more. The Force is just the Force, and the reason Kreia thinks so highly of Revan is simply because he was her student, and she refused to believe that her greatest student could be a failure, because that would mean she was a failure as well. "Revan never fell! He was above the Force's evil influence!" Nobody is "above" good and evil, Chris.

Chris was not the only one with a completely perverted view of Star Wars. But what he and those of his ilk didn't realize is that his idea of the Force is completely incompatible with Star Wars itself. Their ideas are contrary to everything that Star Wars stands on. They try to rewrite Star Wars itself in their minds. It's fictional revisionism.

Darth Onasi: "As a side note, it's a good thing KT wasn't writing for him then, or not only would Fett have escaped the Sarlacc without any consequences, he would've gained super Sarlacc powers making him 40x stronger and have Sarlacc acid breath."
FA Xerrik: "Except... that would be f***ing awesome. Makes me want to write a preposterous fanfic on the premise." ―Two residents of Stardestroyer.net

Not unlike Karen Traviss, come to think of it. Her "Mandalorians are noble and innocent and Jedi are spoon-bending liars" shit is only a stone's throw away from the Avellone fanboy crowd - the main difference is that for the latter, Revan and Revan ALONE is innocent and justified in contrast to the Jedi and Sith, whereas for the former, all Force users are cowardly bastards and the Mandalorians are all superior. Also, Traviss doesn't seem to think much about the Force itself - just that its users are "elitist rulers" who just "won the genetic lottery".

Imagine what the story would be like if Traviss and Avellone had written KOTOR 2 together, with their interpretations both being forced to coexist. We would be getting the "Jedi and the Force are evil" bullshit from TWO perspectives, plus a dose of Revan bashing from the Mandalorians. And we'd also have a good chance of getting Darth Traya complimenting and/or secretly admiring the Mandalorians instead of dissing them, begrudgingly respecting their non-Force-related strength like the lobotomized Count Dooku in The Clone Wars movie novelization. It would be revealed that the Mandalorians were dying from starvation and overpopulation, and they begged the Republic and Jedi for aid, who refused, and that the reason they started the Mandalorian Wars was for desperately needed food supplies and population space, which were denied them by an uncaring galaxy.

If Canderous Ordo would appear at all as a party member, then he would hold no respect for the Exile or for Revan, unless it is later revealed that Revan got Mandalorian training to help him win the war... And Canderous, instead of being manipulated by Kreia into staying in the Exile's service, would blackmail her into serving the Exile or something. Canderous would be Traviss' primary device for her pro-Mandalorian propaganda, and he'd be a mandatory party member in more places. Canderous and Kreia would frequently be at odds, but it would be a stalemate, thanks to the former's "Mando'a" training and linguistic skills.

The game would end in the Trayus Core, as it does with the real game, but instead of two long dialogues and a one-on-one duel with Kreia, it would be a long dialogue followed by a mexican standoff between Darth Traya, Canderous, and the Exile. Kreia would try to sell her interpretation of the Force to the player one last time, but thanks to Traviss' meddling, the Exile would end up mandatorily rejecting Kreia's philosophy to follow his own destiny, which would be either the Jedi way, the Sith way, or the "f*** you I'm my own boss I'm an emo badass biker Dark Jedi loner" way. In other words, the Exile is just a tool instead of an individual.

Meanwhile, Canderous would throw out his "all Force users are bastards" crap, which would be very reminiscent of the speech that Atton Rand regurgitates to the Exile about Jedi and Sith being the same. That's basically the one place where Traviss and Avellone have common ground: they both think that the Jedi are no better than Sith and that the Force is evil, albeit with different reasons for believing those things.

The three of them would then kill each other - Kreia would die because she's a Force-using Sith bastard (Traviss propaganda), the Exile would die because he's a Force-using bastard who killed Mandalorians and rejected Kreia's "evil Force" bullshit (Traviss and Avellone propaganda), and Canderous would die in a "heroic sacrifice of self-defense to save the galaxy from the Jedi and Sith" which would inspire the party member Mira, who is actually his daughter, to rebuild the Mandalorians (Avellone propaganda because no one kills his mouthpiece character without his permission and gets away with it, and Traviss propaganda for the heroic sacrifice bit).

It's rather sad, to be honest, that such a brilliant character as Kreia is in the end nothing but a mouthpiece that Avellone used to try to shoehorn his crackpot interpretation into Star Wars. One of the most well-written characters in the entire Star Wars EU... is just a Mary Sue. A "Fixer Sue", to be more specific - a character that is used to "fix" canon in the eyes of the writer.

At least she's wrong.

The viewpoint of the Force being an evil god that uses an endless war of dark-siders against light-siders to keep itself alive is simply wrong. This isn't the f***ing Cthulu mythos, people. There's no enormous evil space-god that pulls all the strings behind everything. This theory is f***ing stupid. It is against everything that Star Wars is about. It makes EVERYONE into a bunch of ignorant misfits - every person is a Xanatos Sucker. It makes Palpatine himself into a tool, and that alone makes it idiotic.

This theory is fine when presented as the in-universe opinion of Kreia, but when taken as fact out-of-universe, it's simply disgusting. The Kreia philosophy is the bastard son that was produced when Star Wars got raped by one too many fan fiction writers who favored "darker, edgier, and more realistic" writing over the "childish cookie-cutter black and white morality" that is Star Wars' foundation. They think that they're giving a breath of fresh air by introducing some "moral ambiguity".

There's a difference between introducing moral ambiguity and making everything suck. It's like a much more extreme version of the fan fic writers who say that they're trying to "show a few flaws in the Jedi Order so that people see they're not totally perfect", and instead end up completely demonizing all of them.

Bottom line: The Force, like it does in-universe, binds Star Wars together. Take all of the Jedi, Sith, and everything else Force-related out of the continuity, and you've got an AT-AT without its legs. The Force is not the dealer of the Xanatos Roulette, either. Good versus evil isn't some game that the Force sets up. Black and white is all it ever will be in Star Wars, and no matter what anyone tries to sell you, black and white isn't a straight-jacket that restricts a story and keeps it from becoming interesting. It doesn't mean there can't be anti-heroes or anti-villains, or interesting characters with complex motivations or character development. It only means that you can't piss on what the franchise was built on.
Ad blocker interference detected!
Wikia is a free-to-use site that makes money from advertising. We have a modified experience for viewers using ad blockers

Wikia is not accessible if you've made further modifications. Remove the custom ad blocker rule(s) and the page will load as expected.