Ad blocker interference detected!
Wikia is a free-to-use site that makes money from advertising. We have a modified experience for viewers using ad blockers

Wikia is not accessible if you've made further modifications. Remove the custom ad blocker rule(s) and the page will load as expected.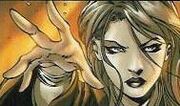 Most beings in
the Galaxy
were either one of the two sexes:
male
or
female
. Some species such as the
Hutts
, however, could be both and are classified as
hermaphrodites
; yet others had more than two. Other various species could change gender every couple of months or years, while some species, like
Humans
, might have only a single gender throughout their lives. The
Sa'ari
were an example of a monogendered species, bearing the outward characteristics of female humanoids and breeding via a form of
parthenogenesis
.
A number of species displayed sexual dimorphism between genders and social conditioning would further distinguish the males and females of the species. For example, in many mammalian and some reptilian species, the females were distinguished by breasts and a slighter build. This dimorphism was further distinguished in the Devaronian species, with the females possessing a coat of fur and no horns. Males of many species tended to be larger with a broader build. The sexes were further distinguished by the tendency for males to be more assertive and dominant in society. Exceptions to this social hierarchy were developed in the Hapes Cluster and on Dathomir where females were the more dominant sex.
Droids, especially those with complex personalities and those which worked in close partnerships with organic beings, such as protocol droids and astromech droids, were often programmed as having either masculine or feminine character.
See also