The
Rebel Hero Roster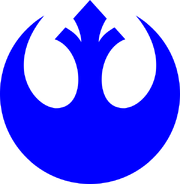 was one of four rosters of legendary heroes in the galaxy. It described each listed person/droid and what made him/her a hero of the Rebel Alliance. Here are some abbreviated excerpts about each hero in the book.
Excerpts
Edit
Mon Mothma, Bail Organa, and Garm Bel Iblis: The founders of the Alliance, no one could have done a better job than them, even if they were often divided on the issue of how to run it.
Leia Organa: Princess of Alderaan, adopted daughter of Bail Organa, and later revealed to be the biological daughter of Anakin Skywalker, Leia was a beacon of hope to all of us who wanted true justice and freedom in the galaxy. Her Force-sensitivity apparently had something to do with this, according to her brother Luke. After Bail died, she was needed more than ever to spur on the Rebel cause, and she did it with a vengeance.
Soldiers, commanders and other heroes
Edit
Legends of the Alliance
Edit
See also
Edit