Marisa Serek
Comments

0
36,612pages on
this wiki

Marisa Serek
Biographical information
Homeworld
Born
Physical description
Species

Half-Echani

Gender

Female[1]

Height

65 inches (1.65 meters)

Hair color

Brown

Eye color

Brown

Chronological and political information
Era(s)

Post-Legacy

Affiliation

Hutt Cartel (formerly)[1]
Imperial Knights
Marisa Serek was the daughter of Irene and Maffew Serek who worked as a professional thief prior to becoming an ally of the Imperial Knights-in-exile. She performed a number of heists, stealing for a variety of employers. She was formerly employed by the Hutts, though her withdrawal from the cartels led to a manhunt. However, Marisa was eventually captured by a bounty hunter and injected with a drug that forced her to do as she was commanded when given a code word. She was able to receive help from the Jedi Gracelyn Maier, though Marisa continued her criminal behavior. Her actions on Quesh attracted the attention of Aemon Vale and the Imperial Knights. After learning that she was manipulated by a product of Sith alchemy, Marisa pledged herself to assist the Imperial Knights.
Biography
Edit
Early years
Edit
Marisa grew up with her mother Irene, supported financially by her father. However, she never saw her father as a father figure, due to the latter's lack of presence in Marisa's life. Outside of a regular life as a child, Marisa became friends with a street gang. She took part in dares around her hometown, which escalated into small-time theft. Having little else to do, Marisa found entertainment in the challenge of taking others' belongings. Although she originally returned the objects she took, Marisa was encouraged by her friends to keep the valuables she stole.
Alongside her friends, Marisa took part in a thieves' guild on Corulag. At first, Marisa worked with her friends to pull off small-time heists, using the money they made to make bigger and bolder hits. Her guild eventually attempted to steal credits from a major bank, which required hackers to operate on-site to bypass firewalls. After neutralizing the bank security and staff, one of Marisa's co-workers wanted to shoot one of the bank guards for initially resisting the robbers. Marisa opposed the suggestion, to the point that she forcefully disarmed the guild member and dragged him where he would not interact with the bank guard. As the guild made off with the credits, Marisa noticed that the bank guard from earlier was slumped in an unusual posture. Closer investigation revealed that the bank guard was shot.
Castellan restraints
Edit
Infuriated, Marisa left the thieves' guild after the heist. She traveled to Nar Shaddaa in search for employment as a lone operative, eventually meeting Gorabba the Hutt on Nal Hutta. Garobba consistently hired Marisa to steal items from other Hutts as well as acquired valuable items for the Hutt's personal collection. Because of the varying methods of providing security to Hutt mansions and fortresses, Marisa grew familiar with both technological and natural security systems, ranging from complex locks to animal guards. However, Marisa had no intention of being a permanent employee of Gorabba.
Marisa secretly exposed Gorabba's actions to other Hutt cartels, giving her a reason to leave Nal Hutta and Gorabba's palace.[1] She initially fled to Tatooine for refuge.[2] However, she later learned that bounty hunters were searching for her, since Gorabba suspected her involvement in his loss of status, causing Marisa to go into hiding. In order to throw off pursuers, she stowed herself away in a box of kassoti sent to Cloud City.[3]
On Cloud City, Marisa found that Gorabba's bounty hunters were a step closer than she anticipated. She ran into a bounty hunter named Rath while on the city.[3] Rath was able to subdue her and take her back to Nal Hutta, but Marisa was able to kill the bounty hunter and escape with the help of former Imperial Knight Zsaekriel Dtoahfre'Vuun.
Zsaekriel helped Marisa evade the bounty hunters who tracked her down to Cloud City. Because Zsaekriel also had things to do on Cloud City, Marisa tagged along with him for a time. The two rescued a young boy from being sent into slavery. However, Zsaekriel's client sought to erase all traces of the boy's escape, ordering mercenaries to kill the two. They were only rescued by Cloud City security forces who intended to arrest Marisa for killing Rath.
However, despite her efforts, Marisa was captured by a bounty hunter and injected with the IX serum. After being programmed with the code word "dyslogistic," she was forced to travel home to Corulag. While under the influence of the drug, Marisa was forced to commit a multitude of homicides, causing the death of her mother.[4]
Gorabba forced Marisa to commit crimes against her own family as penance for ruining his reputation. Since Marisa would be placed out of Gorabba's control after trial, the IX serum was used to ensure Gorabba's revenge. When Jedi Knight Pax Sator came to the planet in order to help local authorities apprehend her, Marisa plotted to use the Jedi Order to cure her. Sator agreed to take her into Jedi custody and arranged a meeting with a member of the Jedi council.[4]
The Prime Envoy, Gracelyn Maier, agreed to meet with Marisa on Tython.[5] Although Marisa was not able to directly communicate the nature of the IX serum, Gracelyn used the Force to purge Marisa's body in a lengthy meditation.
Uncovering the past
Edit
After leaving the temple on Tython, Marisa wanted to discover who invented the IX serum to get revenge. She infiltrated Gorabba's information database on Nal Hutta to find clues.[6] Among the information she uncovered, Marisa learned that it was invented by a Sith Empire that existed over ten thousand years ago. Although revenge was no longer possible, she continued her search. The ingredient dimalium-6 led Marisa to Quesh, where she learned that a Sith named Lord Luchus oversaw Imperial mining operations. Luchus was also believed to had used some of the Quell chemicals mined on the planet in his own experiments. His holocron was in the possession of Borga the Hutt by the town Attis.
Marisa stole the holocron, causing an uproar from Borga.[6] Although Marisa was not concerned with the increased security, she laid low on-planet while she waited for the next public transport to leave Quesh. She was, however, stopped by two mercenaries who searched and questioned her. Marisa was only able to escape the mercenaries with the timely intervention of Aemon Vale and Gareth Voltaris of the Imperial Knights, who were on-planet in search for Luchus' holocron upon hearing about Borga's outburst.[6]
The three stopped at a local diner, where the Imperial Knights interrogated her about the purpose of stealing the holocron. Marisa was initially hesitant about giving away any information, though she was willing to give away the holocron after she was finished with it.[6]
Personality and traits
Edit
Marisa relied heavily on herself, feeling no need to trust others. When she has to work with other people, Marisa goes the extra length to make it clear that she had no obligation to help her teammates' with their difficulties outside the need to complete the job.
Marisa's sense of justice was highly structured. She believed that everyone was good and evil, submitting themselves to one side or another in accordance to how he or she was raised and taught. Although she was a professional thief, Marisa did not see herself as evil since she refrained from killing others. However, Marisa acknowledged that she was not wholly good either. When the Prime Envoy suggested that Marisa pursue a normal lifestyle, Marisa was bewildered by the advice.[5] She did not regret her life choices.
Originating from her friendship with the Corulagian street gang, Marisa developed a peculiar dialect. It usually surfaced in casual conversations or when Marisa got excited or nervous. Marisa was also fluent in Huttese.[2]
Marisa's favorite drink was hot chocolate.[3][6]
Talents and abilities
Edit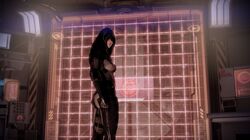 As a professional thief, Marisa had detailed knowledge on virtually all of the viable security systems used and methods to bypass them. Her experience allowed Marisa to quickly respond to different types of security and could quickly analyze the strengths and weaknesses of security guards.[3] She showed some skill in self-defense, though Marisa greatly preferred to avoid confrontations whenever possible.[3] Athleticism played a major role in Marisa's heists, since she had to position herself at the right place at the right time in order to succeed.
Marisa was a highly experienced hacker and computer technician, capable of using various devices to bypass cyber security.[3] She had a strong understanding of droid communication, capable of holding a conversation with astromech droids she never met.
Despite her qualifications, Marisa avoided combat whenever possible, preferring to use non-lethal tools to disorient her armed enemies.[2][4] Marisa still traveled with a hidden holdout blaster for protection.[3]
After joining the Imperial Knights-in-exile, Marisa learned how to defend herself with Echani techniques. Although professed to not be a master of Echani, Marisa possessed enough understanding of the art to incorporate street fighting skills into her combative style and predict her opponent's movements through observation.
Behind the scenes
Edit
Marisa's speech was inspired by Singaporean dialect.
Marisa was originally created as a potential NPC for a string of legacy quests on TheStarWarsRP.Com. However, she was developed into a full character.
Jaffar Serek was originally intended to be Marisa's father, though he had been changed to uncle due to age differences.
Appearances
Edit
Notes and references
Edit