Home
Talk

73
36,628pages on
this wiki

The Star Wars wiki of fan invention.
Anyone can edit; start now!
36,628 articles since August 29, 2005


"A Marine's armor, like the person inside, is not meant to be squeaky."
—Tagline from
Squeak!

Nathanaeu Bastele was a Human male politician who served as the Chief of State of the Galactic Alliance during the Third Galactic Civil War. Bastele was born to a poor family in the slums of Corellia in 970 ABY, and he grew up learning to believe in the virtues of good governance on a galactic level. With his belief in government action came his decision to enter a life of public service.
Bastele's first elected office was on the Coronet City Council, where he became an advocate against poverty. He was elected to the Corellian Parliament seven years later, where he introduced a number of successful anti-poverty measures. In spite of his success, Parliament did not approve any additional measures due to cost concerns, so Bastele chose to run for Corellia's seat in the Galactic Congress to enact change on a galactic level.
Elected in spite of strong opposition from those opposed to additional involvement in the Alliance government, Representative Bastele pushed for anti-poverty measures to be taken by the Galactic Alliance, which saw some success in that area. He was nominated for Chief of State in 1,011 ABY, and he was elected shortly after the outbreak of the Third Galactic Civil War. As Chief of State, he was a strong proponent of a military response to the New Sith Imperium.

Featured article archive | upcoming | nominations | How can I write a featured article?
---

Random good article: Alec Prime | archive | nominations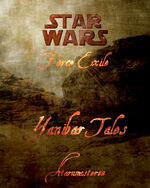 With the help of the coordinates they'd been given by the tech, Selu and Skip began their search. The coordinates led them into the slums of Quantill City. The narrow streets were drab and the buildings a far cry from the functional yet still elegant embassy compound. Instead of a variety of local cultivars mounted in window boxes, they saw them piled with trash or overgrown with various fungi. The air reeked of refuse and waste, and low overhanging lines that crossed the street between roofs often had objects slung from their lengths dripping a liquid whose origins Selu cared not to contemplate. This was the dark side of Quantill City, the place where their least affluent denizens eked out a living and vice ran rampant. Every city had one; the only difference was how deteriorated conditions were allowed to decay. In this case, pretty far.
"We're almost there," Selu told Skip. "Get ready."
"Okay," Skip answered. "I sense someone tucked away in that alley."
"I sense them too," Selu replied. "Not human."

Featured work archive | nominations | upcoming