Ad blocker interference detected!
Wikia is a free-to-use site that makes money from advertising. We have a modified experience for viewers using ad blockers

Wikia is not accessible if you've made further modifications. Remove the custom ad blocker rule(s) and the page will load as expected.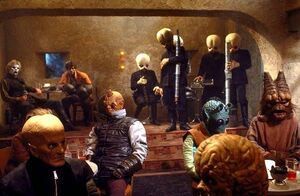 Welcome to the Fanon Cantina, our wiki's most wretched hive of—scratch that, that's not true! The Fanon Cantina is actually our most casual discussion area! This forum is for casual discussions and opinions about articles, fan fics, and other types of Star Wars Fanon-related works that don't belong in the consensus track, the Senate Hall, or any other forum. Because this is for casual discussion, we have only a few requests for you:
Keep your discussion civil and friendly. This is meant to be a calm environment where anyone can post their opinion, so you should not be bossy, derogatory, or obnoxious to anyone.
Keep it casual. Serious topics such as administrative-related discussions, bannings, policy proposals, etc. should be placed into the appropriate forums.
Don't spam the forums or create multiple posts of very similar topic. An example would be a forum called "

<insert name here>

– good or bad author?" and one called "

<insert name here>

's articles"
If you have a discussion you would like to start, enter in a topic title in the box next to "Add new topic." Once you are ready to begin typing up your topic, click the "Add new topic" button and add your content. Fanon Cantina topics will be archived archived when appropriate.
---
View recent changes for the Fanon Cantina
| Topic | Last edit | Last author |
| --- | --- | --- |
| FC:Technical issue | 00:24, July 22, 2014 (hist) | LadyVader |
| FC:Which "side" of the Force are you on? | 06:04, July 18, 2014 (hist) | LadyVader |
| FC:The Third Legion theory. Fan fic | 19:57, July 10, 2014 (hist) | CatapractofOrder |
| FC:Café Fanfic XXXVI | 19:07, July 9, 2014 (hist) | Atarumaster88 |
| FC:Café Fanfic XXXV | 16:54, June 11, 2014 (hist) | Atarumaster88 |
| FC:Café Fanfic XXXIV | 16:36, May 16, 2014 (hist) | Atarumaster88 |
| FC:New Page, need help | 10:01, May 2, 2014 (hist) | Krakhim |
| FC:Happy Easter! | 04:05, April 21, 2014 (hist) | Atarumaster88 |
| FC:Café Fanfic XXXIII | 19:41, April 7, 2014 (hist) | Grand General |
| FC:Café Fanfic XXXII | 14:14, March 17, 2014 (hist) | Atarumaster88 |
| FC:Russian Star Wars Fanon wiki | 17:40, February 22, 2014 (hist) | Konstantes |
| FC:Café Fanfic XXXI | 22:02, February 6, 2014 (hist) | Atarumaster88 |
| FC:Need Ideas | 02:43, February 5, 2014 (hist) | Krakhim |
| FC:Café Fanfic XXIX | 17:53, December 2, 2013 (hist) | Atarumaster88 |
| FC:okay since senate hall hasn't responded in a few days, im asking my question here | 09:08, November 30, 2013 (hist) | Hataca |
| FC:Café Fanfic XXIV | 02:37, July 7, 2013 (hist) | Atarumaster88 |
| FC:Join the Collaborative Writing Project! | 18:52, May 28, 2013 (hist) | Matt Hadick |
| FC:Newbie questions | 17:36, April 15, 2013 (hist) | Atarumaster88 |
| FC:Café Fanfic XXI | 17:37, April 2, 2013 (hist) | Brandon Rhea |
| FC:Café Fanfic XVII | 17:28, April 2, 2013 (hist) | Atarumaster88 |
| FC:Café Fanfic XVIII | 17:28, April 2, 2013 (hist) | Atarumaster88 |
| FC:Café Fanfic XIX | 17:28, April 2, 2013 (hist) | Atarumaster88 |
| FC:Café Fanfic XX | 17:27, April 2, 2013 (hist) | Atarumaster88 |
| FC:Offering my drawing services | 10:19, January 12, 2013 (hist) | NemethBooshi |
| FC:Who Would Be Interested In This? | 19:08, December 6, 2012 (hist) | TK-999 |
| FC:Café Fanfic VII | 21:14, October 13, 2012 (hist) | Solus |
| FC:What's the Story - Alternative Saga style | 10:52, October 13, 2012 (hist) | I'm the Chosen One |
| FC:Café Fanfic XVI | 02:32, September 20, 2012 (hist) | Trak Nar |
| FC:weapon names | 06:56, September 9, 2012 (hist) | Trak Nar |
| FC:CivPal | 06:48, September 6, 2012 (hist) | IG-44 |
| FC:Best starting layout for an organization or group?? | 01:40, September 5, 2012 (hist) | Brandon Rhea |
| FC:Café Fanfic XV | 23:40, September 4, 2012 (hist) | Brandon Rhea |
| FC:How do I add a short story...or can I even do that? | 23:18, September 4, 2012 (hist) | Brandon Rhea |
| FC:Opinions Needed! | 01:09, August 28, 2012 (hist) | Canuck2012 |
| FC:Café Fanfic XIV | 15:38, July 16, 2012 (hist) | Atarumaster88 |
| FC:Café Fanfic XIII | 23:31, June 21, 2012 (hist) | Nightmare975 |
| FC:Café Fanfic XII | 03:39, June 21, 2012 (hist) | Brandon Rhea |
| FC:Café Fanfic XI | 03:39, June 21, 2012 (hist) | Brandon Rhea |
| FC:Café Fanfic X | 03:39, June 21, 2012 (hist) | Brandon Rhea |
| FC:Café Fanfic IX | 03:39, June 21, 2012 (hist) | Brandon Rhea |
| FC:Café Fanfic VIII | 03:39, June 21, 2012 (hist) | Brandon Rhea |
| FC:Café Fanfic VI | 03:38, June 21, 2012 (hist) | Brandon Rhea |
| FC:Café Fanfic V | 03:38, June 21, 2012 (hist) | Brandon Rhea |
| FC:Café Fanfic IV | 03:38, June 21, 2012 (hist) | Brandon Rhea |
| FC:Café Fanfic III | 03:38, June 21, 2012 (hist) | Brandon Rhea |
| FC:Café Fanfic II | 03:38, June 21, 2012 (hist) | Brandon Rhea |
| FC:Café Fanfic I | 03:38, June 21, 2012 (hist) | Brandon Rhea |
| FC:Star Wars Episode 7 | 22:29, May 20, 2012 (hist) | Darth Kermit |
| FC:Random FanFic Talk | 20:50, May 19, 2012 (hist) | JediForJesus |
| FC:Darth Names | 14:36, January 17, 2012 (hist) | TK-999 |