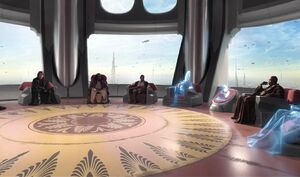 The consensus track is an area for proposing, discussing, and voting upon wiki-wide policy changes and other decisions that affect the wiki as a whole. These range from skin and format changes to policy changes, and even simple matters of template changes. Most matters that have an affect across the community will be discussed and decided here before being put into action. This is in contrast to the Senate Hall, which is a place for site-wide discussions about the wiki that do not involve actual decision making.
If you have a proposal you would like to put forward, enter in a topic title in the box next to "Add new topic." Once you are ready to begin typing up your proposal, click the "Add new topic" button and add your content. Old consensus track pages can be found in the consensus track archive.
---
| Topic | Last edit | Last author |
| --- | --- | --- |
Ad blocker interference detected!
Wikia is a free-to-use site that makes money from advertising. We have a modified experience for viewers using ad blockers

Wikia is not accessible if you've made further modifications. Remove the custom ad blocker rule(s) and the page will load as expected.