CT:Enabling Category Exhibition
Forum page
The following was a discussion to enable Category Exhibition The result of the discussion was that Category Exhibition would be enabled This forum is an archive. Should you wish to add your opinion on the matter, please do so on the forum's talk page.
---
One of the extensions found in the Wiki Features section of the Admin Dashboard, which allows admins to turn certain features on and off, is called Category Exhibition. As you know, the most popular eight pages in categories are already displayed as images at the top of a category. This is called category galleries. Beneath that gallery is a list of all of the categories. With Category Exhibition, what you can do is list all pages as image links, and you can make them sortable by name, most visited, or most recently edited.
Below is what a category looks like using the image links, sorted by most visited: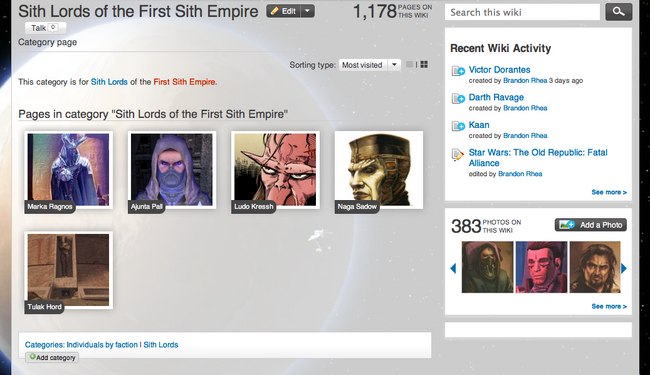 The exhibition view is paginated, with 16 image link categories appearing per page (the example image, from the Alternative Saga Wiki, is not a fully filled out category). Sorting page by page is easy, and it's done without having to refresh the page.
The nice thing about this feature is that it provides an option. You can toggle between two different category views, one with the traditional textual list of categories (plus the category gallery) and one with the image links. Your selected preference is honored each time you view any category. So, if you've clicked the option to have a traditional textual list, it will be that way every time. If you want to choose the exhibition view, it will be that way every time.
This toggling option can be found in the example image next to the drop down menu (where it says "Most visited"). The left-hand option is five stacked lines, which represents the traditional text-based list. The right-hand option shows four squares, which represents the exhibition view.
My proposition is that we enable this feature. Those who do not want to see the full image view will not feel the effects of this, other than having to ensure that the textual list preference is set. The key to this feature is a choice between the two views, so everyone can be happy based on what their particular preference is for viewing categories. It also makes category viewing a more visual experience, allowing for a new way of drawing people into reading pages they think seem visually interesting.
Voting will last for one week, unless more or less time is needed. All relevant matters of the voting policy apply. Please be civil. - Brandon Rhea
(talk) 06:14, August 10, 2012 (UTC)
Support (5)
Neutral
I really don't see the point of spamming more images all over peoples' browsers, but don't care enough to actually oppose. GoodwoodDebating Society12,018 Edits 09:12, August 10, 2012 (UTC)
I use Monobook exclusively. No kriffs given at all about this. Atarumaster88 (

Talk page

) 20:01, August 10, 2012 (UTC)
Since wikia's new layout I've found myself rarely going to categories in the first place.--Josh Benderщ(゚Д゚щ) 22:12, August 10, 2012 (UTC)
Oppose (0)
Discussion
Since this will be a question, this feature does not work properly in Monobook (nor do category galleries, so Monobook users don't see images in categories anyway). If you're a Monobook user, you'll want to toggle the feature to show the text-based view. - Brandon Rhea
(talk) 06:17, August 10, 2012 (UTC)