Darth Charon
Comments

0
38,520pages on
this wiki
Darth Charon
Biographical information
Homeworld
Born

140 ABY, Naboo

Died
Physical description
Species
Gender
Hair color

Brown

Eye color

Red (Dark Side)

Skin color

Pale

Chronological and political information
Era(s)
Affiliation
Known masters
Known apprentices
"Peace is a lie, there is only passion. Through passion, I gain strength. Through strength, I gain power. Through power, I gain victory. Through victory, my chains are broken. The Force shall free me."—Darth Charon
Darth Charon, born Jarid, was a male Human who reconstituted the Sith Empire after Darth Nihl's death and went on to rule it for years as Lord of the Sith.
Biography
Edit
Early life
Edit
"When I was born, I discovered myself as a force-sensitive during the reign when the Sith have returned. It was an extraordinary power that I was able to learn so quickly. I felt so strong when I unleashed my anger, fear, and hate within after I slaughtered my father. When I was about to become the ruler of Naboo, I was approached by a dark figure, who was known to be a Sith Lord. His name was Darth Nihl. Darth Nihl sensed how strong I was in the Force, so he took me offworld and taught me the ways of the dark side. It was so extraordinary. I felt so strong while I was training on Korriban, the ancient birth planet of the Sith. While I completed my trials, I heard a voice from across the valley, leading me to the tomb of an ancient Sith Lord named Marka Ragnos. Marka Ragnos appeared to me as a ghost and showed a me vision from the past. The vision showed how the Sith existed and the Empire which lasted for thousands of years during the Old Republic. They were this close in ruling the galaxy forever until the Jedi drove them to extinction, but not all of them were. I discovered that Darth Bane was the only Sith Lord to keep the sith from existing, forming the Rule of Two which lasted for a thousand years. I wanted to learn more from Ragnos, and he was able to guide me from the past to the future where I could reform the Sith Empire, using a powerful magic in restoring ships, shuttles, cruisers, and other things from the past, but it would also be waste from my new power. After my master slain was by a Jedi Knight named Bantha Skywalker, I swore to avenge him when I became Darth Charon, Dark Lord of the Sith."—Darth Charon's story
According to his stories, Jarid was born on the planet Naboo during the start of the Great Jedi-Sith War. He was born to a family of simple farmers. However, it is said that he never cried, even as an infant, no animal would come near him, and when he spoke, his voice carried a power and weight that a child should not have. When he was six years old, he began manifesting signs of being strong in the Force. However, as his parents were not Force sensitive, his father was suspicious about the boy's true parentage.
Nine years later, Jarid was starting to feel connected to the Force and grew stronger each year. While his mother was farming with a female Gungan named Boona, his father returned and became enraged over his wife's unfaithfulness and attacked her. After watching Boona and the mother were killed by the enraged father, Jarid fed on his father's anger and hate to call upon the dark side, and telekinetically broke his neck with a mere thought. Jarid was happy that he murdered him because he felt proud that he was stronger then him and anyone that is not force-sensitive. Afterwards, he traveled to a nearby village somewhere in a hidden forest and forced the villagers to bow down to him or suffer if they refuse to obey. One villager named Nath Calrayn stood up and refused to obey. Jarid telekinetically broke his neck and showed the villagers that Nath was an example.
Great Jedi-Sith War
Edit
Path to Destruction
Edit
"It's not this simpler. This is not your natural freedom. It's the unspoken truth to all that you crave. No, all of you are made to be ruled by a true person who wields a great power in the Force. Now, I'm asking all of you to kneel before me. I am your ruler."—Jarid's speech to the villagers
During his time on Naboo, Jarid became the leader named the village Jarid Village. His influence and reputation spread throughout the neighboring villagers, and raised them as his followers, some frightened into obedience, and a few fanatically devoted to him. He slaughtered those in his rise to power and planned to spread fear across other villages and major cities. Few villagers were able to escape and travel to the city of Theed and report the incident to Queen Tenabree and the Naboo Royal Advisory Council. The Queen was able to receive the news and sent Captain Goyle Ramath and a squad to deal with the matter.
As Captain Ramath and his squad arrived to the village, they discovered that the whole area was deserted. They scattered around until they were approached by Jarid, revealing a sinister smile and warned them that they shouldn't interfere with his new fond power. Goyle believed he was a crazy and ordered his troops to arrest him. Without hesitation, Jarid telekinetically grabbed two guns and killed the entire squad, leaving Goyle the last one to face him. Goyle took the upper hand and punched Jarid by the chest, throwing him down to the ground. Jarid telekinetically broke his neck and ended the captain's life. Many villagers that witnessed the fight, fled the scene, leaving only four that stayed. As the four villagers approached to their leader, they kneeled down to him with honor and faith.
Apprentice to Darth Nihl
Edit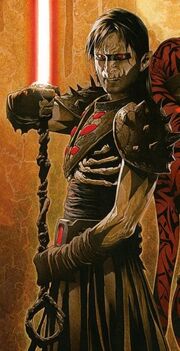 "Who are you?"
"I am Darth Nihl, Lord of the Sith."
"Sith, I know that kind of name."
"That's right young one."
"Then why did you come?"
"Because you were the one that I saw in the vision and you wield great power within you."
"What sort of power?"
"I will tell if you come with me."—Jarid and Darth Nihl meet
Spending a few weeks in the village, Jarid decided to set his plans in motion. He planned to assassinate the Queen of Theed and take power over the capital of Naboo. He promised his loyal followers that he would return for them until takes over the planet.
Around nightfall, Jarid entered the Royal Palace of Theed where he slaughtered several royal guards. This led him straight to the Throne room where he encountered the Queen, along with four of her handmaidens, and two Jedi named Jafan Veruna and his wife Leah Veruna that guarding the queen. Jafan and Leah stood in front of the queen and ordered Jarid to surrender or die. Jarid smiled in delight and told the Jedi that they were going to suffer. He immediately took out his gun and prepared to engage the Jedi. Jafan and Leah ignited their lightsabers and deflected every blast from him. Eventually, Jarid telekinetically grabbed Leah's lightsaber which gave him time to shoot her straight at the chest. After killing his first Jedi, Jarid ignited the lightsaber and engaged Jafan in a duel. As Jafan was gaining the upper hand, Jarid was able to disarm the Jedi's lightsaber and plunged the blade in his chest.
After killing the Jedi, Jarid turns to face the queen until the Queen's handmaidens point their guns and try to kill him. Jarid deflected every shot and killed all the handmaidens. He walked towards the Queen who was not afraid to die from his wrath. Jarid grins and telekinetically force chokes the Queen to death. After killing the queen, Jarid sit on the chair of which he will soon rule. When he was waiting for members from the Naboo Royal Advisory Council to arrive, he sensed that someone was approaching the throne room. Believing that it was a council member, he turns to face the person who is revealed to be Darth Nihl.
Seeing that Jarid killed the Jedi with no mercy, Darth Nihl was impressed by the youth's power and ambition. Jarid sensed so much power in Nihl and to know about it. Nihl offered the young one to come with him and reveal the secrets of the Force. Jarid agreed to follow Nihl and traveled to Korriban as an acolyte of the Sith Academy. After passing his trials, Jarid kneeled to his new master and was named Darth Charon.
Sith Lord of Korriban
Edit
"I knew someone would eventually reach my tomb and summon me from Chaos."
"So, its true, you are Marka Ragnos."
"You are correct, I was one of the most legendary Sith Lords who ruled the galaxy with an iron fist and was destined to become... so much more. At my time, I ruled an Empire and battled against the Jedi Order and Galactic Republic during the era of the Old Republic and the Golden Age. Both the Jedi and the Republic nearly drove us to extinction, but many remained undiscovered. After I died, I remained in Chaos, waiting for others to learn my secrets while I remained in chains. I know why you are here, and I know what you want."
"Yes, I want to learn your secrets of the Golden Age. I been reading several rumors during my time on Korriban and discovered the Hundred-Year Darkness."
"By your free choice, I will show you the past and how Sith Lords, including me, ruled the galaxy."—Darth Charon and Marka Ragnos
After his failure with Skywalker, Darth Charon was found by Darth Rune, who soon arrived and found the injured Sith Lord. She returned Charon to Korriban in an Imperial shuttle. The Sith Lord was nearly close to dying, but Rune used her Sith alchemy to keep him alive. After arriving to the Valley of the Dark Lords, Rune and several apprentices took Charon to a tomb and placed him in a sarcophagus. There, Rune and her followers used a powerful magic which would keep Charon alive. This spell caused Charon to be put into a deep sleep until his powers return and his wounds heal.
Twenty years later after Nihl's Empire was collapsed and forcing all surviving Sith to remain hidden, Charon emerged from his isolation and broke out from his sarcophagus where Rune and her followers kneel before him. Seeing that he completely masked around his face, Darth Charon did not struggle, but he wanted to search for some answers in order to reorganize the Sith Empire. While he wondering through the valley of the dark lords, Charon discovered the tomb of Marka Ragnos, an ancient and legendary Sith Lord who lived for over a hundred years. However, he discovered that the entrance of the tomb was completely sealed by Jaden Korr, a powerful Jedi Knight during the time of a great battle on Korriban. Charon was enraged, but he began to use the Force to unseal the tomb with all his might and allow him to enter. He was able to reach the sarcophagus after he passed a dead body, which was known to be Tavion Axmis. As he kneeled in front of the sarcophagus, Charon held a Sith talisman, which Rune gave to him after he awakened, and summoned Ragnos's spirit from Chaos once again. The spirit of Ragnos eventually crowned Darth Charon as the new Dark Lord of the Sith and showed him a vision of the past about how Ragnos ruled the galaxy with the Old Sith Empire by his side. The vision showed him everything and was able to learn the greatest power within himself. After Marka Ragnos' spirit returned to Chaos, Darth Charon was ready to reorganize the Empire.
After leaving the tomb, Charon returned to his tomb and called in a council of all the remaining Sith Lords, inviting them to the entrance of his tomb where they would participate in his conference. Some refused to go, but many more came. They thought that one Sith Lord couldn't do anything against thousands. One Sith Lord named Darth Spar challenged him in a lightsaber duel, but Charon immediately struck him down very quick. As all the Sith Lords and apprentices saw how powerful he was and wouldn't take a chance in engaging him, they all kneeled and considered him as their Emperor. Furthermore, the Sith believed that the Jedi and the Alliance would wipe them all out, and they were desperate for anything they could use against them. Darth Charon used those fears, making public speeches with graphic warnings of what the Jedi would do, broadcasting and transmitting them throughout the entire Empire, persuading the Lords to set aside their suspicions of himself and each other to unite in a single cause.
At the same time, Darth Charon believed that he could find a way to be Immortal instead of his natural fear of death and its interference with the Sith goals of power, control and self-glorification. He traveled around the valley until he discovered a hidden passage that was never found for nearly a millennium. He slowly entered the passage where he was the first to discover the Eternal Pyre. There, he found a force nexus and a holocron which was owned by Aloysius Kallig, one of the legendary Sith Lords from the Old Sith Empire. Darth Charon unlocked the holocron and incorporated its knowledge into his own seminal work. He stepped inside the nexus and started to feel sudden change within him and his flesh. After coming out of the nexus, Darth Charon was immortal. He would provide this secret to other Sith Lords, but he would only choose the ones that were chosen to be immortal.
Rebuilding the Empire
Edit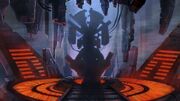 Rising actions
Edit
In 190 ABY, Darth Charon was ready to reveal himself to the Jedi, the Alliance, and the Fel Empire.
Appearance
Edit